9 results - showing 1 - 9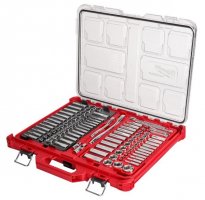 Tool Blog
Chris April 27, 2020
0
4
You will soon be able to purchase Milwaukee Tool Ratchet and Socket sets that use the Milwaukee PACKOUT Low-Profile Organizers as their storage cases. The new PACKOUT sets include both SAE and Metric options. The PACKOUT Organizers used in these sets are compatible with the complete Milwaukee PACKOUT Modular Storage System, which has grown to include 20 modular storage solutions.
Tool Blog
Chris March 13, 2015
0
4
Do tool chests need to be made of metal? Well if Keter is making them, their answer is no, as Keter is a manufacturer of plastic products. Their modular tool chest system will allow users to customize their tool storage to match their needs, and adjust as they grow.
Manufacturer News
Chris October 02, 2012
0
3
Who do we turn to when we need saving? Why the Justice League of course. But who does the Justice League turn to when the Hall of Justice needs saving from disrepair? Apparently they turn to the Craftsman Technician and his trusty Craftsman Bolt-On Modular Tool System.
News
Chris August 21, 2012
0
4
Black & Decker has just announced their new Matrix Multi-Head modular tool system which will allow users to build up their tool inventory one head at a time. Users will also be able to select the power of the new system by selecting one of three power base units.

Weekend Links
Chris July 14, 2012
0
0
New Bosch Workwear – Capris for workers? - Tools In Action Is it fun to laugh at the expense of others? It is when you see people who are supposed to be "construction workers" dancing around like they were on a reality TV show. They got our attention so I guess their plan worked, though maybe not the attention Bosch wanted because the video evidence has been removed from YouTube. Black & Decker is Working on a Modular Power Tool System? - ToolGuyd ToolGuyd seems to have some inside information...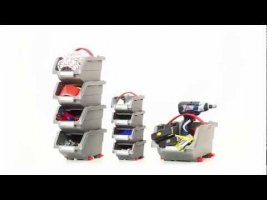 News
Chris June 07, 2012
1
0
So I was perusing the Keter website the other day and came across their new Click Bin product. The Click Bin is similar to other stackable small parts bins on the market today, but what sets it apart is the ability to lock the bins together in stacks, kind of like the modular toolboxes from other manufacturers.
News
Chris April 23, 2012
0
0
The JobMax is a tool that Ridgid makes that features a corded or cordless body that can accept interchangeable heads. The System has been out for a while now, with improvements and attachments coming along the way. Now it appears the next step for the JobMax system is to go pneumatic.
Reviews
Chris April 02, 2012
0
20
I think I have said this before, but when I saw the DeWalt ToughSystem and the features it offered, it was love at first sight. I was already in the market for a modular type storage system/tool box and had been scoping the offerings from the other brands, but the ToughSystem had a complete solution that best suited my needs.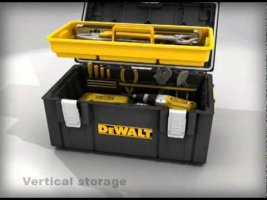 News
Chris June 06, 2011
1
0
I have been battling with the idea of purchasing a few Systainers so that I can use them with a hand truck to get my tools on and off the jobsite easier for a few years now, but the pricing always kept me away. Then out came the L-Boxx from Sortimo, and it popped into my mind as a possible solution. The L-Boxx then became the front runner when Bosch made them more readily available here in the States. However, now it looks like DeWalt's Tough System is the ideal storage/transport system for my needs. The Tough...
9 results - showing 1 - 9