17 results - showing 1 - 10  
News
Chris   May 02, 2012  
0
1
We have seen circular saws used as table saw replacements with the Eurekazone tracksaw system, and now there is a new system from PUPS (Portable Universal Power Station) that can turn a circular saw to an accurate miter saw.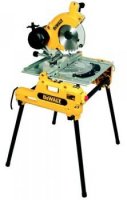 News
Chris   August 10, 2011  
1
1
We have seen a couple of combination miter/table saws now enjoying freedom in the U.K., one from Bosch with a table mounted on top of a miter saw, and one from Makita that flips to transform. Now it is DeWalt's turn to join in on the fun with their very own flipping combination transformation miter/table saw.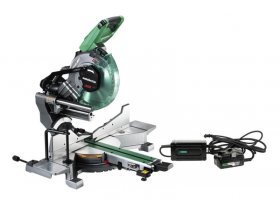 Tool Blog
Chris   November 08, 2018  
0
13
We all love the idea of cordless versions of our favorite benchtop power tools that we can use out in the field, but we are less thrilled about what happens when these power-hungry tools drain the battery. Metabo HPT (formerly Hitachi Power Tools) has launched a brand new line of MultiVolt power tools that address this issue. If you run out of power, simply plug the cordless tool to into a wall outlet.
Tool Blog
Chris   June 30, 2016  
0
7
DeWalt has come out with a revolutionary new FlexVolt battery that can automatically change its voltage from 20V to 60V to match the voltage required by the tool. Two FlexVolt batteries can also be combined to deliver 120V Max to tools that require even more power. Best of all, the new DeWalt FlexVolt battery pack is backward compatible with existing DeWalt 20V Max cordless tools.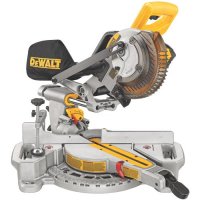 Tool Blog
Chris   May 01, 2015  
0
2
Oftentimes it can be a battle to find an empty power outlet on a busy jobsite, so it is probably a dream of many tradesman—not just myself—to be able to go completely cordless with their power tools. DeWalt is taking their users one step closer to this dream with the introduction of the new DCS361 20V Max 7-1/4 Inch Sliding Single-Bevel Miter Saw.
Tool Blog
Chris   June 18, 2014  
0
2
For those of you wanting a small portable miter saw with a big cutting capacity, Makita has introduced their new Model LS0815F 8-1/2-inch Dual-Bevel Sliding Compound Miter Saw. Other than their 18V Miter Saw, it has been more than a few years since Makita has come out with a compact slider, and I am sure it will be a welcomed addition.
Hot Deals
Chris   May 23, 2014  
0
1
If you are looking for a miter saw that is good for both DIY'er and Professional alike, you might want to check out this hot deal on the DeWalt DW716 12-Inch miter saw. Amazon has a new low price of $327.99 on the saw, and it is the lowest I have seen this saw for.
Tool Blog
Chris   May 19, 2014  
0
2
Makita has come out with a new 10-inch sliding compound miter saw (model LS1018) designed to meet the needs of finish carpenters, flooring installers, and other trades who require both accuracy and portability. Weighing in at only 43.7 lbs, they have portability covered, but what about accuracy?
Hot Deals
Chris   January 15, 2014  
0
1
If you are in the market for both a 12-inch miter saw and a miter saw stand, HomeDepot has quite the deal for you. For a limited time they have paired up the Ridgid MS1290LZA Sliding Compound Miter Saw w/ Laser and the AC9945 Miter Saw Utility Vehicle (MSUV) stand for only $499. The saw regularly sells for $499 and the MSUV normally sells for $199. A savings of $199 isn't bad.
Tool Blog
Chris   January 08, 2014  
0
1
Just a few months after announcing their new 10-inch Axial-Glide Miter Saw, Bosch is continuing to expand their miter saw line with the addition of the new CM8S 8-Inch Single Bevel Sliding Compound Miter Saw. Bosch says they are answering user demands by coming out with a lightweight compact saw for greater jobsite convenience and portability.
17 results - showing 1 - 10