11 results - showing 1 - 10
Tool Blog
Chris February 24, 2017
1
1
The age-old question of whether you buy a jigsaw or a reciprocating saw has finally been answered;  you don't buy either, you buy a Worx Axis instead. The WX550L Axis is a new combination cordless tool from WORX that transforms from a jigsaw into a reciprocating saw and accepts standard blades from both tools.
News
Chris August 01, 2013
2
0
The Festool Carvex Jigsaw was first introduced to North America back in March of 2011. It had a ton of really nice features, but the feature that caught my attention was the LED strobe light that could visually freeze the movement of the jigsaw blade. Sadly, about a month after it was announced, Festool pulled the Carvex and sent out a letter stating "...Late round testing in certain applications specific to North America has demonstrated that the current design does not meet the exacting standards that we demand of ourselves, and that our customers have come to expect..." ...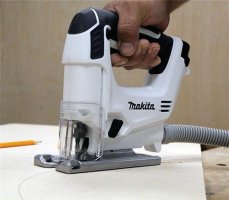 News
Chris December 07, 2012
0
2
It looks like Makita has really started to build up their 12V lineup, this time with the new VJ01W 12V Max Cordless Jigsaw. The VJ01W has a feature I would have never expected to see on an ultra compact jigsaw, and that is a dust extraction port.
News
Chris October 11, 2012
0
0
What do you do when your jigsaw blade is not long enough? Until now you might have turned to a reciprocating, if you have one. Now with the introduction of a new line of blades from Bosch, you can turn to one of their new 10-inch Extra-Long Precision jigsaw blades.
Manufacturer News
Chris October 02, 2012
0
3
Who do we turn to when we need saving? Why the Justice League of course. But who does the Justice League turn to when the Hall of Justice needs saving from disrepair? Apparently they turn to the Craftsman Technician and his trusty Craftsman Bolt-On Modular Tool System.
News
Chris August 21, 2012
0
4
Black & Decker has just announced their new Matrix Multi-Head modular tool system which will allow users to build up their tool inventory one head at a time. Users will also be able to select the power of the new system by selecting one of three power base units.
News
Chris July 31, 2012
1
3
Bosch has always been a class leader in jigsaws and they are the brand that many professionals turn to first, so when they announce new jigsaws, everyone takes notice. At their recent media event, Bosch debuted their new JS572E Top-Handle Jig Saw and JS572EB Barrel-Grip Jig Saw, and Bosch did not leave anything out.
News
Chris February 08, 2012
0
18
Today DeWalt showed us that there are not messing around and they are willing to compete with the other brands to win you over. They were a little behind and had to play catch up with their 18-volt slide-style battery tools known to us as 20V Max, but it looks like they have kept their engineers busy to keep the 20V Max selection growing fast. It was back in June 2011 when DeWalt first introduced their 20V Max tool line and now, only 8 months later, they are expanding on their line with 8 new 20V tools. ...
Manufacturer News
Chris April 26, 2011
0
0
Maybe fearing the same kind of backlash after users complained about the Kapex when it was introduced to N.A., Festool has suddenly announced that they will not be releasing their Carvex Jigsaw on June 1st. We have no clue what the issues with the jigsaw could be or when we will see the strobing jigsaw again, but it must have been serious enough to cause Festool to pull it and not indicate when it will be reintroduced. This is in no way good news for the company, but it does show that they stand for quality....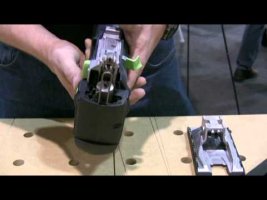 News
Chris April 19, 2011
1
0
The Festool Carvex is probably one of the coolest tools Festool has announced since their Kapex miter saw, and Tools of the Trade has a video that goes into detail about the new jigsaw, how it functions, and the available accessory options. The video is from the JLC Live event, and TOTT has more videos from the same event that you would be a fool not to check out, including videos from Bosch, and Blaklader. Tools of The Trade
11 results - showing 1 - 10