13 results - showing 1 - 10  
Gadgets
Chris   August 13, 2014  
1
1
Festool has a new tool accessory that at first sight looks like a gimmick, but it turns out it might be more useful than you think. The new Festool CT Wings is an add-on that turns your dust extractor into an expensive, but useful, third arm.
Tool Blog
Chris   January 14, 2014  
0
2
As more people are concerned about dust levels on the jobsite or maybe just interested in keeping their customers' homes clean, Bosch has announced new 9-gallon (VAC090S and VAC090A) and 14-gallon (VAC140S and VAC140A) dust extractors with semi-automatic or automatic filter cleaning options. Each vac is also compatible with Bosch's Click & Go System, making it easy to keep your tools, accessories and vac together.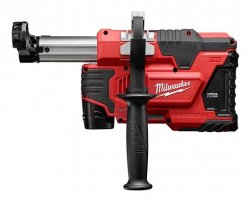 News
Chris   February 07, 2013  
1
1
The Milwaukee M12 HammerVac is a dust extractor that collects the dust that your rotary hammer makes while drilling, but unlike other cordless rotary hammer vacuums, the HammerVac works on other brand's drills too.
News
Chris   February 01, 2013  
4
1
Makita has been making a real effort to offer dust collection accessory options for many of their new tools, which is something I really like, but until now they have been without an actual dust extractor of their own. So what does Makita and their new Xtraxt Vac (VC4710) have to offer?
News
Chris   September 25, 2012  
2
1
How many of you have ever had the idea of building a dust collector from scratch? Mathias Wandel had this idea and decided to show us his progress on Youtube. A dust collector doesn't seem very complicated, but it turns out that there is a whole heck of a lot of engineering that goes into making one that works well. The hard part of building your own dust collector is coming up with a design that does a good job of filtering out dust but still has enough power and capacity to handle the debris that your tools throw...
News
Chris   September 21, 2012  
0
1
One thing I really hate is jobsite dust, especially concrete dust. It gets all over the finished woodwork and always finds a way into my lungs. So the way to combat dust is to use a vacuum or a dust extractor. But we need one small enough to fit in the truck with the rest of the tools, and Bosch has one in the new 3931B-SPB 6.6-gallon Wet/Dry Vacuum.
Around The Web
Chris   February 13, 2012  
0
0
Contest Information
Contest Ends
February 29, 2012
So now that you have entered to win some woodworking tools from Powermatic, your next step is to enter to win some goodies from their sister company Jet; Walter Meier must be in a giving mood. Up for grabs in the Jet sweepstakes is a 16-32 Plus Drum sander that can quickly sand smooth the surface of your materials, and a Vortex Cone Duct Collector to make sure all that dust from the drum sander has a place to go. The prize package is valued at $2,182.
News
Chris   January 26, 2012  
0
2
Dust collection systems, attachments and accessories always seem to be popular at the World of Concrete trade show. With concrete being the main ingredient of the show, there is bound to be a fair amount of concrete dust, so it is only obvious to showcase tools that help clean it up. Bosch has come out with a number of new DC products that are sure to be welcomed by the people that would normally have to work in a cloud of dust.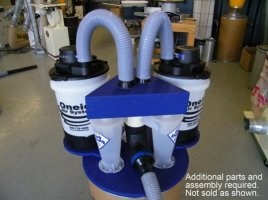 News
Chris   January 06, 2012  
0
2
Back in the late 90's you could not turn on the TV without seeing a commercial for a household vacuum that offered dual-cyclonic action. These commercials taught us that a vacuum with one cyclone was great, but one with dual cyclones is even better. The Dust Deputy videos have shown us how well their cyclone kits work on shop dust, so imagine what two more cyclones could do.
News
Chris   August 23, 2011  
1
0
If you are a serious woodworker or even an avid amateur, you probably have some form of dust collection for your shop tools. We all know that dust in the lungs is a bad thing, especially if the dust is from manufactured or composite woods. Dust collectors are good at keeping dust levels down in the workplace, except for when you need to clean them out. Those filters get blocked up with so much loose dust that when you remove them, the dust goes everywhere. You almost need an extra dust collector running when clean out your dust collector....
13 results - showing 1 - 10