Power Tools
Table Saws
Power Tools Bosch 10 Inch Worksite Table Saw with Gravity-Rise Wheeled Stand - 4000-09 Reviews
Power Tools Bosch 10 Inch Worksite Table Saw with Gravity-Rise Wheeled Stand - 4000-09 Reviews
https://www.tool-rank.com/media/listing/photos/thumbnail/300x300s/dd/3c/67/173_4000091_1214774728.jpg
Chris   June 29, 2008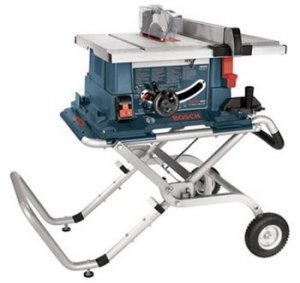 Includes:
10" 40-Tooth carbide blade<br />
Blade Wrench -- 2 610 911 565<br />
Hex Key -- 2 610 998 551<br />
Miter Gauge -- 2 610 997 204<br />
Gravity-Rise™ Wheeled Stand -- TS2000
Largest Table Top in its class - 29" x 21-1/2" — Easily handles bigger stock.
Precision rip fence with patented "square-lock" technology — Provides accuracy with every cut.
Constant Response™ Circuitry — Monitors torque demand and instantly delivers additional power to maintain constant speed under load
Soft Start — For quieter, smoother start-up.
Wide Ripping Capacity — Integrated cutting rail system extends table 25" of riping capacity.
Exclusive Arbor Lock — For single wrench blade changes
Gravity-Rise™ Stand — Takes the work out of setting up and breaking down the saw.
Rugged and Portable Stand — Provides a mobile base for tool transport between jobsites
Universally Adaptable — Mounting slots for competitor's table saws - DeWalt, Makita, Hitachi, Craftsman
8" Treaded Pneumatic Wheels — Handle rough terrain.
Heavy-Duty Steel Construction — Built to last.
User reviews
Handy Stand
Very easy to set up, fairly powerful, accurate. good capacity, doesn't trip breakers.

I really like how easy it is to move and set up this saw. I even find it easy to load into a pick up bed, I just wheel it up to the bed, turn it around so the bottom of the saw faces the truck, tip it over so that the handle is on the tailgate, then just lift from the bottom bar and slide it on in.

The two thing I dislike is that when the optional side material support bar is installed you can not open the on board blade storage compartment.

Don't drag this saw stand up anything that you care about. The stand will trash the stair landing treads and anything else it contacts.
Cons
Blade storage inaccsessable with outfeed support
Gets around
I just love the way this saw folds up. One lever and no lifting. Once folded it rolls around the job site easily, or out to your truck. The only problem is that once you reach your truck you have to lift it. The soft start is nice.
Pros
Rolls over almost anything