Turn your Circular Saw into a Track Saw
Featured
https://www.tool-rank.com/media/listing/photos/thumbnail/300x300s/05/63/cd/vertcutbig-93-1439799601.jpg
Chris   November 20, 2008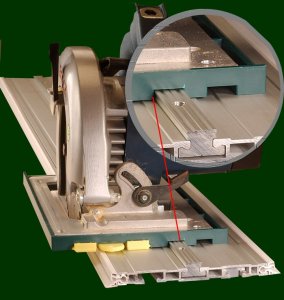 There has been a lot of buzz about Track Saws with both DeWalt, and Makita finally coming out with versions for the USA. But I bet many people don't know that you can turn just about any circular saw into a track saw for a fraction of the cost of a complete track saw package all with a kit from EurekaZone. After all, why should you have to buy another circular saw if you already own one, especially if it's a saw you really like? Who needs Festool when you can make a track saw with your own circular saw?
I am talking about the EZ Smart Guide System from EurekaZone. It is one of the coolest systems I have seen in a while. You really need to check out their website, and their YouTube page to see what the system is capable of. I have been watching the videos all day, and each one shows a different cutting situation the system can handle. The basic system consists of a base that you attach to your own circular saw, or you can buy a saw with a pre-attached base from EurekaZone, and an aluminum guide rail (Track). Add a few more accessories to the system, and you have a full table saw replacement at a price a DIY'er can afford. The system also accommodates a router for cutting perfectly straight dados, and more. And a table system also users to set up jigs and fixtures for repeatability. Amazon
Check out the into video of the basic track saw kit (below).
989

views
March 10, 2017
-
02:28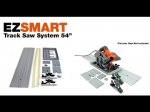 EZSMART Track Saw Systems
The EZSmart Track Saw System gives you absolutely straight cuts with virtually zero tear-out or chipping—all with the circular saw of your choice! Unlike many similar systems, this one includes a Universal Saw Base that can be fitted to over 90% of left- or right-bladed circular saws. That means there's no need to pay a premium for a specialty saw. The saw glides effortlessly down the rail for rip cuts, cross cuts, and angle cuts. Thanks to the guide rail's zero-clearance edges and the chip-free inserts on the bottom of the base, the cut quality is far better than typical table saws. And since the wood is captive under the track, there is no danger of kickback. Includes two EZSmart Clamps capable of securing even the smallest boards under the track. Additional 54'' Guide Rails (55763) and Connectors (57360, 56171) are available separately to produce a guide rail of any length. Made in USA. Website - www.eurekazone.com Find us on Facebook - http://www.facebook.com/Eurekazone Follow us on Twitter - http://twitter.com/EurekazoneTools Universal Edge Guide with saw base available at: Rockler Woodworking and Hardware - http://www.rockler.com/ezsmart-track-saw-system-54-in Music Song - Quick-Moving-Stream-Alt-COC011101 by Edward Grenga (ASCAP), Charles Lawry (ASCAP), Douglas Quick-Moving-Stream-Alt-COC011101 Stevens (ASCAP), Michael McMahon (ASCAP); Purchased from http://www.stockmusic.com on 7-27-14 End User License http://www.stockmusic.com/home/pricing_2/end_user_license
power tools
•
circular saw
•
track saw
•
tracksaw
•
EurekaZone