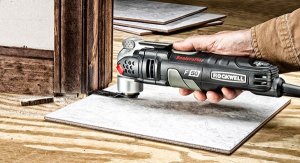 Tool Blog
Chris   August 04, 2014  
1
1
Rockwell has just announced a pair of new Sonicrafter oscillating multi-tools with specifications that seem to top all the other competing brands. With all of the multi-tools on the market from a number of different manufacturers, could it be Rockwell that knocks Fein off of Oscillation Hill?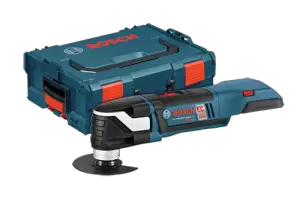 News
Chris   June 18, 2013  
0
1
We first saw the Bosch 18V Multi-X pop up on the German website back in March, and then Bosch confirmed that it would be coming to the US when it made an appearance on their US Facebook page in May. We have been anticipating the 18V Multi-X for a while now, and finally Bosch has given us a release date and a price to go with it.
News
Chris   June 04, 2013  
0
1
The really bad thing about oscillating tool blades is that they can't really cut into any hard metal and last for more than a few seconds. We have all been spoiled with the amazing powers of carbide and anything less seems like we are using a butter knife. So Bosch is giving us what we need in their OSC114C, a carbide tooth oscillating multi-tool blade.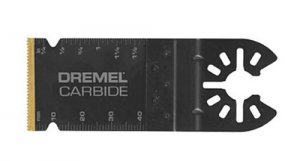 News
Chris   April 22, 2013  
0
2
Dremel has come out with a new carbide oscillating tool blade that they say is the first oscillating tool blade on the market with high performance carbide teeth. These are unlike previous carbide oscillating blades that feature only carbide grit.
News
Chris   July 11, 2012  
0
2
Dremel has come out with a couple of new oscillating tool accessories that really expand the versatility of oscillating tools and should give you even more chances to use the Multi-Max on your projects. Both new accessories move away from the standard push blade model and instead cut when you pull the tool.
News
Chris   May 10, 2012  
0
0
Since Bosch is the company that introduced us to the OIS (Oscillating Interface System) and has set the standard that most of the other brands are following, it seems fitting that they should be the ones to keep the flow of new blades and accessories coming. Titanium is the logical next step.
News
Chris   May 09, 2012  
0
0
It looks like the battle of 18V cordless oscillating multi-tools has officially begun. Porter-Cable is taking their oscillating tool design, with tool-less accessory change, to their 18-volt lithium-ion cordless line and is going up against Makita.
News
Chris   April 23, 2012  
0
0
The JobMax is a tool that Ridgid makes that features a corded or cordless body that can accept interchangeable heads. The System has been out for a while now, with improvements and attachments coming along the way. Now it appears the next step for the JobMax system is to go pneumatic.
News
Chris   April 16, 2012  
2
0
Remember back in December I posted an article about rumors floating around the internet that Makita was coming out with an oscillation tool and that an 18-volt cordless model was also in the works? Well it turns out that the rumors were correct. Last week – while I was out sick – Makita posted a couple of videos on their Youtube channel that outed their new upcoming products.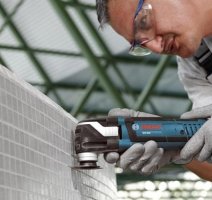 News
Chris   March 08, 2012  
1
4
I just received official word from Bosch that their new tool-less accessory change Multi-X oscillating tool is available now in stores. The new tool-less feature is something that we have all been waiting for, but the MX30E has other notable features that make the upgrade that much better. And at $199, the MX30E is still priced to match or beat the Fein MultiMaster.