Dremel Carbide Universal Oscillating Tool Blade
https://www.tool-rank.com/media/listing/photos/thumbnail/300x300s/0b/98/a4/Dremel-Carbide-Flush-Cutting-Blade-24-1366607174.jpg
Chris   April 22, 2013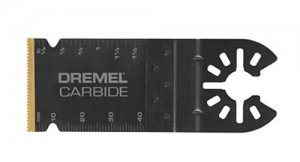 Dremel has come out with a new carbide oscillating tool blade that they say is the first oscillating tool blade on the market with high performance carbide teeth. These are unlike previous carbide oscillating blades that feature only carbide grit.
Carbide grit blades are only really useful for limited applications, but actual carbide teeth blades can be used in a wide variety of applications. The new Dremel MM485 blade should last longer than standard oscillating blades and cut faster in normal applications. Dremel says they can also make cuts into much harder materials, such as hardwood, nails, screws, bolts, galvanized pipes, fiber board and more.
You might also notice that these blades look a bit different than other Dremel universal blades. This is because these blades utilize a new Quick-Fit mounting system that makes them even more universal than before.
Look for the Dremel MM485 Carbide Blades in hardware stores now with an MSRP of $19.99. If they work as well as promised, this should be a nice step forward for oscillating tools. BUY - HomeDepot
MM485
•
Dremel
•
oscillating tool
•
oscillation
•
carbide