News
Chris   November 04, 2010  
0
0
One of the greatest tools that is used by both professionals and homeowners alike is the simple yet handy tie down strap. Without these, many expensive antiques and building supplies would have been lost to the poor knot tying skills that plague those of you that slept through knot tying 101. We Scouts have nothing to worry about. Ratcheting tie down straps are great and all, but how often do you find yourself reaching for one, only to find it in a tangle. Or what do you do with all of the excess strapping...
News
Chris   March 22, 2010  
0
0
I talked about the new Dust Deputy Festool Kit back in February. If you remember, I questioned whether it was really worth it to buy the kit, or to save a bit of money and make your own using a Systainer.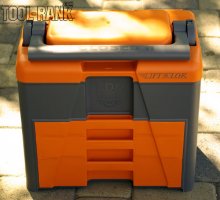 Reviews
Chris   September 09, 2008  
0
0
ManufacturerPDY Systems Supplied byPDY Systems Price $59.95 Buy [:cicn:] Amazon Introduction Today we are taking a look at the Lift-n-Lok tool organizer by PDY systems. If you go into any store looking for any toolbox, craft box, tackle box, or whatever box, you will notice one thing in common. They have some type of exterior latch or catch that is used to keep them secure. This is where the Lift-n-Lok goes beyond the norm, and sets a new paradigm. It features...