Editorial
Chris   July 06, 2012  
0
0
July is the perfect month to talk about tools that are made in the USA. I had started a list about tools made in the USA in the TR forums but since I closed them down I thought I would bring the topic up again. I also tag all of the USA made tools I mention in articles with a Made in the USA tag and you can find that link in the sidebar to the right.
Manufacturer News
Chris   June 18, 2012  
0
0
You have probably seen those Channellock pliers with the red and blue handles on them; well, those tools are part of Channellock's Code Blue line. They never seemed to be advertised as much as their classic line, and I guess that was because the handle grips were not made here in the USA. That was, until now.
News
Chris   June 13, 2012  
0
0
If you have ever come across one of those bolts that just wont budge and you have tried everything, including shed blood, your next option is to turn to the blowtorch. A little bit of heat can do wonders to loosen seized nuts, bolts, etc, but if you are not careful you can just as easily set your project ablaze.
News
Chris   June 01, 2012  
0
0
Nobody likes it when they go to use a tool only to find it covered in rust. This is especially an issue with cutting tools that are made with more carbon so they stay sharp longer. A product called GoldenRod wants to prevent your tools from the possibility of rust by using a bit of heat.
News
Chris   May 17, 2012  
1
4
Is it strange to see people moving away from the use of toolbelts on the jobsite? I know some older workers that would not even think of such a thing. But why stick with the same thing, when now, there are so many more options to choose from. The new Occidental Leather 2650 Get To Work Vest is just one more example.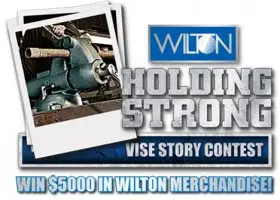 Around The Web
Chris   May 03, 2012  
0
0
Contest Information
Contest Ends
September 14, 2012
It doesn't matter if you do woodworking, metalwork, or DIY home repair, one tool that you need to have in your shop is a heavy-duty vise; and when we think vise we think of Wilton. If you have a Wilton vise story, Wilton wants to hear about it. Your story and vise photo could win you $5000; but even of you don't win, Wilton will still give you one of their c-clamps (value $84). Wilton has been around for 71 years now, and there is probably a pretty good chance that you have used one of...
News
Chris   May 01, 2012  
1
0
Do you ever have tricky angled joints that you need to clamp together? One of the ways we do this is by saving the cutoff piece and using it to provide a square surface to clamp off of. Well what if you didn't save the cutoffs or you are working in the field with finished materials? The Blokkz UCB Universal Clamping Block is another way to help you with those tricky angles and a lot more.
Reviews
Gary   April 17, 2012  
0
4
My wife loves her garden; so when she happened to suggest that this year she would like to try raised garden beds, and Craftsman happened to request a review of their new digging shovel, I said; "let's get started." A serious digging project requires a serious digging tool, and the Craftsman Long Handle Digging shovel is as serious as they come.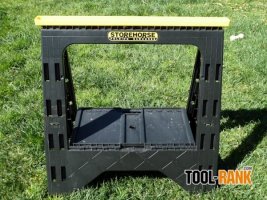 Reviews
Chris   February 24, 2012  
0
5
This might be hard for some of you to believe, but one of my most used tools on the jobsite is actually a pair of sawhorses. Whenever I need to cut a counter top, a wall panel or the occasional door I need a pair of sawhorses. Since I move around a lot on the jobsite, the lighter the horse the better, so plastic horses are a must. I have used a bunch of different saw horse brands over the years, but I have never been happy with any of them, that is, until I purchased a pair by...
News
Chris   January 30, 2012  
1
2
I always roll with a bottle of Gorilla Glue in my tool box, as one never knows when he/she might need to glue something up. But reaching for that glue bottle only to find out that it has cured in the bottle, can be a real problem. The thing about Gorilla Glue is that it reacts and cures using water, and evidently, even the moisture in the atmosphere is enough to start the curing process. Knowing how unhappy dried up glue makes us, Gorilla Glue set out to fix the problem.