News
Chris   January 23, 2012  
1
0
I am still amazed at the amount of jobsite issues an oscillation tool can help me solve, and I am very thankful to have this technology. I also think back to jobs where an oscillating tool could have saved me a ton of time and energy. But as great as these tools are, the blades seem to be the weak link. Is the future of oscillation tools in blades? Maybe titanium blades?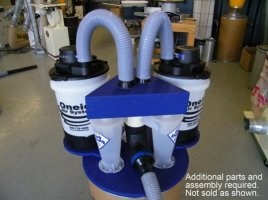 News
Chris   January 06, 2012  
0
2
Back in the late 90's you could not turn on the TV without seeing a commercial for a household vacuum that offered dual-cyclonic action. These commercials taught us that a vacuum with one cyclone was great, but one with dual cyclones is even better. The Dust Deputy videos have shown us how well their cyclone kits work on shop dust, so imagine what two more cyclones could do.
News
Chris   November 09, 2011  
1
0
Many of the clamps that we own and use are designed to remain parallel during the clamping process. The parallel faces on these clamps are great in ensuring that whatever we are clamping remains secure and square; but what if we want to clamp something that is not square, maybe a round closet rod, or a tapered chair leg?
News
Chris   November 08, 2011  
0
3
I have always found that if your tools are easy to see, and each tool has its own place, then it is easier to spot a missing tool or one that is out of place. Not only does a system like this keep you better organized, but it many cases, it is more productive. Old sayings like "A place for everything and everything in its place" really do work.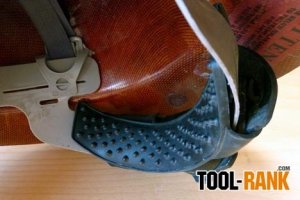 Reviews
Chris   July 22, 2011  
0
3
Is is fair or even possible to call a ToolRank Pick just from seeing a product demonstrated in a video? Well, that is pretty much the case for the Hat Grabber. The moment I saw it in action on video I knew it had the potential to be a real winner; all I had to do is test it out for myself to make sure it worked as well as advertised and confirm my suspicions. If you remember, the Hat Grabber is a small hardhat add-on that claims to better hold your hard hat on your head....
News
Chris   May 12, 2011  
1
0
Hard hats never seem to stay where they belong (on your head, not on the floor), and there has never really been a good way to help hold them on. The Japanese use chin straps with their hats, but we Americans are far too cool to allow ourselves to wear such a useful yet funny looking safety device. Thankfully the Hat Grabber is a solution Americans can use without compromising their fashion dignity. Best of all, the Hat Grabber is made in the USA. Go U.S.A. I just got my review sample in yesterday...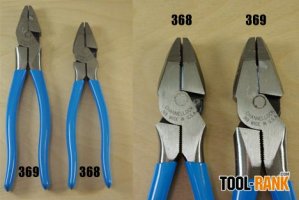 Reviews
Chris   April 15, 2011  
0
0
BrandChannellock Model #368 Buy Amazon Not too long ago I review the ChannelLock 9.5" 369 Lineman Pliers, but today I have the new smaller 368 8" version. As I mentioned in my previous review of the 369 Pliers, I am not a professional electrician, and any electrical work that I do is on a small scale. It is because my electrical work is DIY that I prefer the smaller ChannelLock 368's.I simply do not need the added cutting power that the 9.5" version offers. Sacrificing a...
News
Chris   March 17, 2011  
0
1
It is no surprise that many, if not most of the tools sold in stores today are knockoffs that are made in China. But it might surprise you to learn that for just a few dollars more you can get the originals that all of these cheap tools are copying. Original Estwing 16oz Hammer - $20 (made in USA) - Amazon ($27)Name brand Chinese copy - $17 Original Shark Corp. 10-inch Prybar - $17 (made in Japan) - AmazonName brand Chinese copy - $15 Spring Tools Hammer-less Nailsets - $10...
News
Chris   January 25, 2011  
0
0
The Perfect Bungee Lasts A Lifetime; this is not just the title of today's blog, it is also the warranty and the name of the bungee in question. The Perfect Bungee makes use of the latest in technology, and brings us a new bungee that they can withstand a lifetime of UV rays, extreme weather, and even many of the chemicals found around your house. Most bungee cords on the market today are made of rubber and can not withstand any of the conditions mentioned above. The Perfect Bungee is made of polyurethane, one of today's...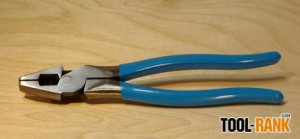 Reviews
Chris   November 12, 2010  
0
0
A while back Channellock sent over a pair of their 369 lineman pliers and I had the pleasure of putting this tool to the test. Now I am not an electrician, which the tool was originally designed for, but who couldn't use a good set of pliers to help out with life's daily problems. The pivoting action on the pliers was really smooth and a tell tail sign that these are quality made. Channellock recently updated these pliers by reducing the size of the pivot. This change allowed them to move the point closer...