Tool Blog
Check below to find the latest tool review from the editors at Tool-Rank. We review the tools we think you would find the most helpful, so you can shop with confidence. We have tool reviews from major brands like Milwaukee Tool, DeWalt, Makita, Dremel, Bosch, etc.
Power Tool Reviews
Cordless Tool Reviews
Hand Tool Reviews
Multi Tool Reviews
Circular Saw Reviews
and much much more.
If you would like to see a specific tool review, let us know. After all, we are here to help you. We like to do tool reviews that are unique and fun, but we also enjoy reviewing the standard tool you would use for everyday projects. We review tools from small Mom & Pop manufacturers, to large world brands, everything from Ryobi to Milwaukee.
Chris   February 21, 2018  
2
1
When it comes to breaking down sheet goods, track saws are a great lower priced alternative to tablesaws, but a good portion of the cost of a track saw is in the track itself. Worx has found a way to lower the cost of their new WX530L ExacTrack Cordless track saw by allowing it to use any straightedge up to 1-inch thick as its "track".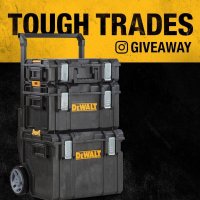 Chris   December 04, 2017  
0
1
Contest Information
Contest Ends
December 14, 2017
TOWSON, MD (December 4, 2017) – DEWALT® celebrates trades this holiday season. Starting today, DEWALT will give away tools for a variety of trades on its DEWALT Instagram page. The #ToughTrades giveaway is dedicated to the people who are employed in woodworking, electrical and plumbing, and mechanical industries, concrete and masonry professionals, metalworkers, and general contractors. DEWALT is committed to providing these professionals with products that deliver the performance they need to get tough jobs done each and every day.
Chris   November 20, 2017  
0
1
I know how hard it can be to buy gifts for your family or even to come up gift ideas for yourself when asked; so every year I put together a Christmas Gift Tool Buyers Guide of a few tools or accessories that I think an enthusiastic tool user might enjoy. Heck, I want some of these for myself.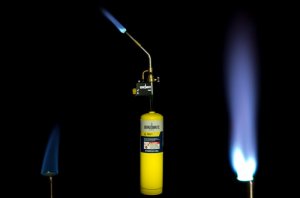 Gary   November 15, 2017  
0
4
Since Bernzomatic will be featuring the TS8000 torch kit as a Home Depot Black Friday deal, they've asked us to take a closer look at their latest auto-start ignition, adjustable flame hand Torch. The holiday promotions will include a savings of up to $10 on the TS8000KC Torch and cylinder kit and up to $6.59 on a 2-pack of MAP-Pro fuel cylinders at Home Depot. The deals will run at the Home Depot beginning today and will last until November 29th.
Chris   November 02, 2017  
1
1
Why is it that most of the time you need to free up a stuck bolt it is hidden deep down into the mechanical workings where you can barely see it? You could stick a dirty flashlight into your mouth and try and hit the bolt with some penetrating lubricant, but for some reason you can never get your aim right. Thankfully, Liquid Wrench has come out with a solution that solves this very problem.
Chris   September 26, 2017  
0
3
I have been researching CNC Router Kits lately, trying to see if it would be worth it for me to automate some of the work I have been doing. One thing that bothers me with what I have been seeing is the way the drive mechanisms are exposed to dust and debris. My other concern is with the rigidity of CNC routers made using extruded aluminum. However, the new C-Beam based WorkBee from Ooznest seems to address both of my concerns while still remaining modular.
Gary   August 02, 2017  
0
19
Marketed for residential use, the Generac 7122 Speedwash System is a gasoline pressure washer with the power and reliability that you'd expect from a professional model; and frankly, after experiencing such precision delivered force, I wouldn't want to start a job with any other home model or have the need of a professional model.
Contest Information
Contest Ends
June 30, 2017
It is pretty common to find yourself working on a jobsite with less than ideal lighting conditions. Even when supplementing the light you will often find yourself working within the shadows. To lessen your chances of making mistakes, Empire Level has come out with a new line of lighted levels. They are so eager to show off their goods they are giving a new em95.10 TRUE BLUE UltraView Magnetic Torpedo Level to two lucky winners.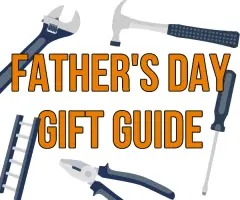 Father's Day is just around the corner and once again I have been requested to put out a gift guide. If I am being completely honest, I don't really like putting out these gift buying guides, because then I feel responsible if the gifts turn out to be duds. However, I understand that finding gifts that Dad will enjoy can be challenging at times. So I will give you some ideas of some tools I think are cool; just don't hold me responsible if your Dad doesn't like it; though he probably will, because all tools are cool. ...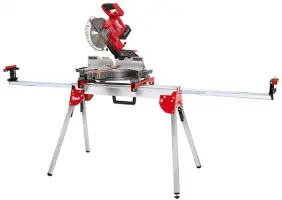 Milwaukee Tools has announced a new compact and lightweight miter saw stand that weighs only 31-pounds yet has a weight capacity of over 500-pounds. Its portability would pair nicely with the cordless 18V miter saw Milwaukee came out with last year.