6 results - showing 1 - 6
Manufacturer News
Chris May 17, 2013
0
5
Dickies, who is known for their affordable work wear, has announced that they have teamed up with JS Products to come out with a complete line of tool bags and accessories. From the look of it, the line is extensive and even includes bags specifically for painters and their tools.
News
Chris January 18, 2013
0
2
Do you remember the Mixing Mate that Rockler came out with last summer? It fit onto a regular quart-sized paint can and promised a no-hassle way for users to store, mix, and pour their paints and finishes. It must have been successful because Rockler has now come out with a gallon-sized version.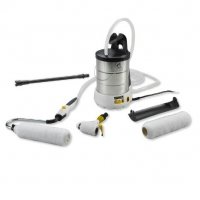 News
Chris August 28, 2012
0
1
Professional painters like to use sprayers because they can get the paint onto the walls fast, but they like rollers because they leave the desirable texture on the wall. So to get the best of both you will often see a painter spray first and roll second. The new Smart Power Roller System from Wagner also offers the best of both, but does so with one tool and in one step and at a lower price.
News
Chris June 15, 2012
0
0
Not happy with the current way of mixing, pouring and storing your paints and finishes? Rockler has a new product called the Mixing Mate that does all three; and I think the person that came up with the design did it over a plate of pancakes.
News
Chris August 19, 2011
1
0
When do you ever open up a new can of paint or stain, and finish the entire can in one go? Unless you are a professional, the chances are pretty good that you rarely finish the full thing in one day. So what ends up happening is you seal up the can, and put it on the shelf to used at a later date. After a few projects have gone by, you turn to your dust covered can of finish and open it up to find a hard skin over the surface. What a...
News
Chris December 08, 2010
0
0
I would have never expected to see accessories for something as simple as the Rockler Bench Cookies, but you can't go wrong when trying to make a product even more useful. The new Cones for Bench Cookie offer painters a way to utilize the non-slip abilities of the Bench Cookie, and apply this to there finishing process. The cones will work with all Bench Cookie models and simply fit snugly over the body of the cookie. What the cone does is further lift your project off of your bench, which allows for greater access...
6 results - showing 1 - 6