Reviews
Chris October 16, 2013
0
13
When you think of Milwaukee you don't really think of hand tools, but Milwaukee has been on a push over the last couple of years to change all that. This year Milwaukee has introduced a number of new hand tools, including the screwdrivers we will be reviewing today. In the review I will be going over their General Purpose Screwdriver Set as well has their 10in1 Ratcheting and 10in1 Non-ratcheting drivers.
News
Chris September 23, 2013
0
5
For the most part Rockler caters their stores and their tools to people who work in shop environments, and their own products are no different. Rockler has come out with a new line of tool pouches and aprons that have been designed to meet the different needs of those working in a shop, including the ability to use them off the belt.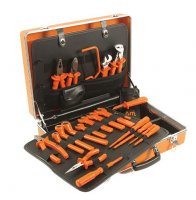 News
Chris June 03, 2013
0
1
CH Hanson has announced that they are teaming up with ITL (Insulated Tools Limited) of Great Britain, to bring a full line of their 1,000-volt rated fully insulated hand tools to North America. The range of professional tools will include: screwdrivers, wrenches, pliers, cutters, nippers, sockets and more.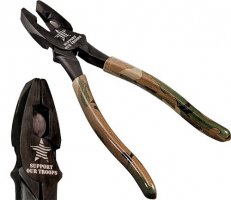 News
Chris May 24, 2013
0
1
Klein has announced that in addition to donating $25,000 in 2013 to Operation Homefront, an organization that helps our Military and their families, they are also coming out with a new limited edition Camouflaged 2000 Series High-Leverage Side-Cutting Pliers.
Manufacturer News
Chris May 17, 2013
0
5
Dickies, who is known for their affordable work wear, has announced that they have teamed up with JS Products to come out with a complete line of tool bags and accessories. From the look of it, the line is extensive and even includes bags specifically for painters and their tools.
Manufacturer News
Chris April 03, 2013
0
5
When you hear the name Milwaukee Tool, I bet the first tools that come to mind are not hand tools; but maybe that should change. Milwaukee has been getting into the hand tool business over these last few years, and we've got word that even more tools are coming this May.
News
Chris March 29, 2013
0
1
Klein Tools announced some new additions to their Tradesman Pro line of tool organizers that have been designed to meet the needs of professionals. While Klein Tools are typically marketed towards electrical contractors, anyone can benefit from their organizers.
News
Chris March 08, 2013
0
1
Stanley Tools is celebrating the 50th anniversary of what is probably the most popular tape measure in the US, the Stanley PowerLock. To commemorate the anniversary, Stanley will be releasing a series of five limited edition tape measurers.
News
Chris February 05, 2013
1
0
Can't find the tool that you need because it is lost somewhere inside of a tangled mess, inside of a drawer? That is where Francis Wall was before he designed the ToolHanger, his hanging tool organization system.
News
Chris February 04, 2013
0
4
A couple of years ago Johnson Level first introduced their bamboo levels. Bamboo is advantageous to use for a number of reasons including strength and sustainability, so is it any wonder that they have decided to introduce a line of T-Bevels and Try-Squares that use the fast growing grass?