Tool Blog
Klein Introduces New Storage Bags For Tech Devices
Klein Introduces New Storage Bags For Tech Devices
https://www.tool-rank.com/media/listing/photos/thumbnail/300x300s/7d/79/8b/Klein-TechBag-Family-8-1382518819.jpg
Chris   October 23, 2013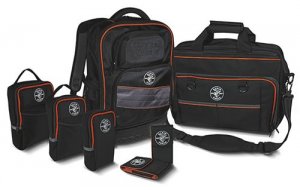 Klein has launched a new line of storage and laptop bags for professional tradesmen and technicians. In addition to a backpack and a shoulder bag capable of holding a laptop or tablet, they have also introduced a trio of meter carrying cases and a pair of smartphone cases.
Whether you like to carry a laptop with one shoulder or two, Klein has a Tradesman Pro Tech bag for you. The Tech Backpack is a little roomier with 25 pockets versus 22 in the shoulder Tech Bag, but both have padded pockets that can house a laptop and protect it from the tools and cables you might have in the other 20+ pockets. The Tech Backpack also features a hard front pocket that is perfect for safety glasses, and a molded bottom to protect your gear from the elements.
To protect your smaller electronics Klein is also introducing three sizes of Tradesman Pro Meter Carrying cases. They feature two layers of padding, heavy-duty zippers, and a rugged PVC-coating to protect your delicate instruments.
Klein didn't stop with the just the laptop bags and the meter cases; to make sure you can protect all your electronics with Klein gear, they included Smartphone holders in their lineup. They have designed a small case for iPhones and similar sized phones, and a large case for Galaxy S3 and similar sized phones. Both have a magnetic flap closer and a metal belt clip.
1608

views
October 23, 2013
-
01:22
Tradesman Pro Tech Bags from Klein Tools
Introducing our new Tradesman Pro Organizer Tech Bags! The new Tech Bag (Cat. No. 55455M) and Tech Backpack (Cat. No. 55456BPL) feature a padded laptop pocket, multiple pockets for organization, and storage for chargers and adapters. Learn more at http://www.kleintools.com.
hand tools
•
laptop bag
•
notebook bag
•
backpack
•
Klein
•
tool storage
•
tool bags