5 results - showing 1 - 5
Weekend Links
Chris May 05, 2012
1
0
A Seriously High-Buck LED Worklamp – ToolMonger Festool is known for making high quality and high priced power tools, and ToolMonger also found that they make really high priced portable LED work lights. The Festool SysLite powers a total of six 3-watt LEDs that are said to produce a clear white light capable of brightening an entire room. It has an internal rechargeable battery, but it can also be plugged into the wall for extended use.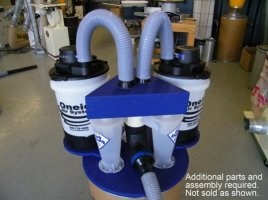 News
Chris January 06, 2012
0
2
Back in the late 90's you could not turn on the TV without seeing a commercial for a household vacuum that offered dual-cyclonic action. These commercials taught us that a vacuum with one cyclone was great, but one with dual cyclones is even better. The Dust Deputy videos have shown us how well their cyclone kits work on shop dust, so imagine what two more cyclones could do.
News
Chris March 22, 2010
0
0
I talked about the new Dust Deputy Festool Kit back in February. If you remember, I questioned whether it was really worth it to buy the kit, or to save a bit of money and make your own using a Systainer.
News
Chris February 15, 2010
0
0
You remember the Dust Deputy system I wrote about in the past; It is the cyclone that mounts onto a standard 5 gallon bucket, and acts as a pre-filter for your dust collection. Everywhere I look I see the Dust Deputy getting great reviews; people seem to love it. Now, not wanting to miss out on all the fun, Festool owners have come up all kinds of contraptions that allow them to mount their Deputies to their Festool Dust Extractors. One contraption consists of a cutting up a rather expensive Festool Systainer, mounting the Dust Deputy,...
News
Chris November 05, 2009
0
0
The problem most vacuums face when picking up fine dust is loss of suction. This loss of suction is caused by the dust particles blocking and clogging up the vacuums air filter. This blockage shortens the life of the air filter and ads harmful strain to the vacuum motor. There is also the fact that many shop vacuums do not do a very good job of filtering out fine dust. The Dust Deputy from Oneida Air Systems is kind of like a pre-filter attachment for your shop vacuum. Using the power of the cyclone,...
5 results - showing 1 - 5