You show up to work and start building, but little did you know that the day before there were people working behind the scenes changing the blueprints. Of course your work day started at 6AM, but you won't even know changes were made until the Suit calls you during your break just as he is starting his day.
Chris   December 14, 2010  
0
0
Have you ever found yourself wanting more information while reading the packaging on a tool? Having the most information sure makes your choosing the right tool a lot easier, but there is only so much one can fit onto the packaging. The smaller the package, the less information we get. Johnson Level is changing all if this with the addition of QR codes on their product packaging. QR codes are similar in function to barcodes and contain small bits of information. These codes can be scanned with most of the newer smart phones by simply installing a...
Our favorite woodworking DIY gadgeteer Matthias Wandel is at it again. The last time we wrote about Matthias, he was showing off his DIY precision tenon cutting jig for the table saw. Today we talk about his homemade 18-inch bandsaw. Yes, he built an entire bandsaw from scratch. For the most part the bandsaw is made out of either solid wood or plywood, including the wheels which he turned himself. His saw may be DIY, but it sure doesn't look like it and has all the features one would expect a bandsaw to have. ...
Chris   December 16, 2009  
0
0
Should every tool in your toolbox have a laser? Probably not, but Spear & Jackson thinks your hand saw should or at least their Predator 22" hand saw should. It uses a laser built into the handle to project a straight laser line across your material. Normally I would blame the operator for bad cuts, but some of us have a hard enough time trying color within the lines, let alone cut straight. The operation of the Predator seems simple enough. Layout your cut with a pencil line, line up your saw,...
Chris   October 06, 2009  
0
0
It is not everyday that a completely unique product comes along and the GripSharp certainly is one of them. It is a combination pencil grip and a pencil sharpener. The GripSharp slips right over the tip of any standard size pencil, and offers additional comfort and the convenience of a pencil sharpener that is always at hand. I just received a couple samples yesterday and you can look forward to a review in the near future. If you can't wait, you can pick up a GripSharp directly from their website for $2.89....
Chris   September 15, 2009  
0
0
How many times have you been in a restaurant, historic building, or just anywhere and wondered what type of wood is being used throughout the building? Maybe you just have too much wood in your shop, and can't remember what is what. Some types of wood are incredibly easy to ID, while other species are not. The I.D. Wood App for the iPhone or iPod Touch is a reference guide that is designed to make identifying wood as easy as possible. With over 50 species of wood listed, including high quality sample...
Do you like clocks, tools, wood, and building things with your hands (not necessarily in that order)? You should check out the clock designs from Clayton Boyer. Not only does he design and build amazing wooden gear clocks, but he also sells the plans so that the rest of us can have these pieces of art in our houses. If you have the tools, the time and the patients, you would probably have a blast building one of his beauties that you can then past down to your children. Clayton Boyer Clock...
E-books are becoming more and more popular because of devices such as the Amazon Kindle. With a clever play on words, a little bit of design and some fancy laser equipment, you get the Amazon Kindling. A very cool more flammable version of the popular e-book.
Chris   February 18, 2009  
0
0
A responsible carpenter never leaves home without his trusty level, right? Well maybe not, but with some cool Apps and an iPhone or iTouch, you can play carpenter anytime/anywhere. The iHandy Carpenter App from iHandySoft Inc includes 5 tools that might just come in handy the next time you forget your real tools. The App is available in the iTunes App Store and includes a Plumb Bob, Surface Level, Level, Ruler, and a Protractor all for just $1.99. If that is too rich for your blood, you can get the iHandy Level App by itself for...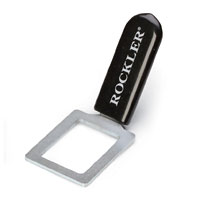 Chris   February 17, 2009  
0
0
Rockler does a good job of making simple solutions to common problems. One of these common problems comes with using bar clamps. It takes time to release these clamps once you have them completely tightened, and Rockler has a way to speed things up. Sure it only takes a few seconds, but those seconds seem like forever when you are in a hurry to move on to the next project. The EZ-Clutch delivers quick, effortless release of tail stock and eliminates sticky clutch plates on your standard 3700 style bar clamps. ...