ToolRank Giveaway: Win A Ratcheting Ready Wrench
Chris   January 31, 2011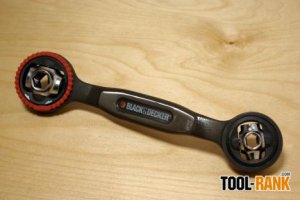 Congratulations to Twitter user @Eleuthera1. She is the winner of the Black & Decker Ratcheting Ready Wrench.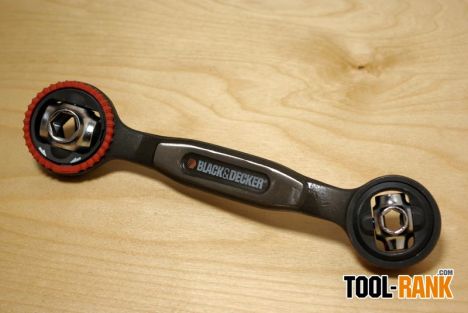 Up for grabs for this month's giveaway is a brand new Black & Decker Ratcheting ReadyWrench. I reviewed one of these not to long ago and found that it is something that just about any homeowner or DIY'er could use. Check out my review of the Ratcheting ReadyWrench to see just  what I thought about the tool.
Features include:
Includes 16 of the most popular standard (SAE) and metric (MM) socket sizes
Exclusive ratcheting action for added convenience and versatility
Color-coded socket sizes for easy visibility
Built to last with a Lifetime Warranty
Entering the giveaway is simple and we give you three options, here is how.
Leave a comment anywhere on the Tool-Rank Blog. Any comment will do, but if you want to say thanks to the sponsor, that would be nice. Or let us know how you would use your new toy.
Facebook users can enter by leaving a comment on the ToolRank Facebook page.
Twitter users may also enter by following ToolRank and tweeting the following message (as shown):
RT @ToolRank Enter to win a Ratcheting ReadyWrench from @Black_DeckerUS http://su.pr/1ajUfD #giveaway
You may enter this specific giveaway up to three times (once per method). Additional entries will not be counted.
Contest is open to anyone in the 48 Contiguous United States (including the District of Columbia), 18 years of age or older.
One (1) Winner will be chosen randomly. Winner will receive one (1) of the prizes listed above.
If you are chosen, you will be notified by email (Use a valid email address), or PM via Facebook or Twitter.
Prizes may look different then those pictured above.
Entries can be submitted until Monday February 28 2011, at 11:59PM ET. Good luck!
Thanks again to Black & Decker for supplying the Ratcheting ReadyWrench.
{jomcomment lock}