Chris August 21, 2018
1
1
Contest Information
Contest Ends
September 14, 2018
Bosch really want's to get the word out about their new generation of Core batteries and how they pair with their new and existing cordless tools. So much so, they are running a huge giveaway where they will be giving away 2,000 cordless tools with the new Core 6.3Ah battery. Each prize retails for around $300, which puts the total combined retail value of the giveaway at around $600,000. Yeah, it is insane.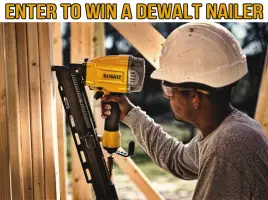 Chris September 01, 2016
0
1
Contest Information
Contest Ends
September 30, 2016
Tool-Rank is happy to be able to team up with DeWalt to giveaway away a brand new DeWalt Pneumatic Nailer. Best of all, the winner gets to choose which nailer they will receive. If you do a lot of general construction, the DeWalt 21° Plastic Collated Framing Nailer (DWF83PL) might be right for you. If you see a new roofing job in your future, the DeWalt Coil Roofing Nailer (DW45RN) might be your choice. Both Nailers are being provided by DeWalt, so it would be nice if you sent them a tweet or comment letting them know that you...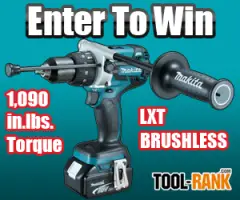 Chris October 01, 2014
0
1
Contest Information
Contest Ends
October 31, 2014
Tool-Rank is happy to be teaming up with Makita this month to give away their brand new 18V Brushless Hammer Drill/Driver. The Makita XPH07 delivers the most torque in its class at a jaw-dropping 1,090 inch pounds. Not only is it powerful, but Makita packed in all kinds of fancy technology that ensures that you get the most runtime out of your tool. To learn more about the XPH07 be sure to read my initial write-up on the new hammer drill.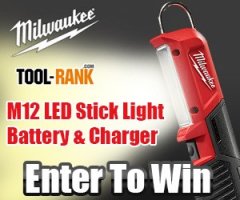 Chris August 01, 2014
0
1
Contest Information
Contest Ends
August 31, 2014
If you have read my Milwaukee M12 LED Stick Light Review you would know that I am a huge fan of the cordless LED light. So when I had an opening for a giveaway I knew I had to try and team up with Milwaukee to give one of them away. Milwaukee Tool happily agreed to my request and also decided to throw in a battery and a charger.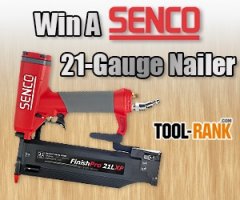 Contest Information
Contest Ends
June 30, 2014
It's giveaway time. This month Tool-Rank has teamed up with Senco to giveaway a brand new product, their new 21-gauge FinishPro Nailer. When an 18-gauge nailer is too big, and a 23-gauge is too small, Senco says their new 21-gauge nailer is just right.
It's the first of the month again and you know what that means; it's time for another amazingly awesome Tool-Rank Giveaway. Joining us this month is Bosch Tools, and they are graciously providing their new HDS182-01L 18V EC Brushless Compact Tough ½-Inch Drill/Driver as the prize for one lucky winner.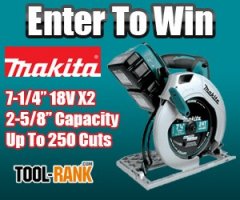 Contest Information
Contest Ends
April 20, 2014
I am excited to announce that Makita has joined in on the giveaway fun and is offering up their brand new 18V X2 (36-volt) 7-1/4-inch Cordless Circular Saw for this month's giveaway. This saw gives you the power of a corded saw with the portability of a cordless by using two 18V batteries to give you a total of 36-volts of power. The added power that this saw offers also allows it to use a standard 7-1/4-inch saw blade rather than a typical 6 or 6-1/2-inch blade.
Chris February 02, 2014
0
2
Contest Information
Contest Ends
February 28, 2014
One of the modern tools that makes life a whole lot easier is the cross-line laser level. If I put together a list of tools that every DIY'er should own, the cross-line laser would be on that list. So needless to say, I am happy to announce that this month Tool-Rank has teamed up with Johnson Level to giveaway one of their brand new 40-6650 Self-Leveling Cross-Line Laser Levels.
Chris January 01, 2014
0
1
Contest Information
Contest Ends
January 31, 2014
I am happy to announce that Tool-Rank has teamed up with Milwaukee Tool to kick off the New Year with giveaway of their soon-to-be-released M18 Jobsite Radio/Charger (2792-20). That's right folks; you can win this radio before it is even available in stores.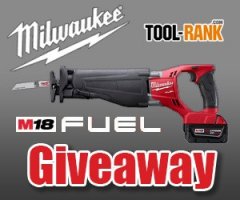 Chris November 01, 2013
0
1
Contest Information
Contest Ends
November 30, 2013
The folks over at Milwaukee Tool have been cranking out all kinds of awesome tools this year, and many of their cordless models feature the latest in cordless technology. One of those awesome new tech filled tools is their M18 Fuel Sawzall Reciprocating saw, which Milwaukee Tool has donated for this month's giveaway.