3 results - showing 1 - 3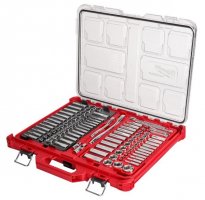 Tool Blog
Chris   April 27, 2020  
0
4
You will soon be able to purchase Milwaukee Tool Ratchet and Socket sets that use the Milwaukee PACKOUT Low-Profile Organizers as their storage cases. The new PACKOUT sets include both SAE and Metric options. The PACKOUT Organizers used in these sets are compatible with the complete Milwaukee PACKOUT Modular Storage System, which has grown to include 20 modular storage solutions.
Reviews
Chris   August 02, 2011  
0
0
I was a bit skeptical when I first heard that DeWalt would be making hand tools. I figured the tools would just be re-branded Stanley tools, like the Bostitch hand tools were. How would a bunch of re-branded hand tools be interesting news for you to read? It wouldn't, but thankfully for all of us, the new DeWalt tools are not just a simple logo change. The DeWalt line of hand tools look like they were built upon Stanley models, but also improved upon. As a way to show the skeptics among us what they really...
News
Chris   January 17, 2011  
0
0
I was pretty rough on Rockler the last time I mentioned them, but they are still one of my favorite tool stores because they still have some of the coolest products; products like the Thread Detective. Unless you have a nut and bolt in every size, or some other type of measuring gauge, you have probably found it difficult to find out the sizes you need when trying to match other nuts and bolts. The Thread Detective offers a simple and very effective way to find out the size you need by giving you a bunch...
3 results - showing 1 - 3