3 results - showing 1 - 3  
News
Chris   July 10, 2012  
0
4
Bessey is well known for their clamping tools and it is always exciting to see what they come out with next. What's next for Bessey this time, is flooring tools. More specifically, their new line of flooring tools consists of both flooring clamps and flooring spacers to help with alignment.
Manufacturer News
Chris   May 24, 2011  
0
0
It seems like more and more manufacturers are offering up longer warranties for their tools, and this is a move that I welcome. Duo-Fast is the latest to improve upon their warranty by giving their NEW 200-S and 200-C flooring staplers and nailers a 10-year warranty on all durable parts, and a 1-year warranty on parts that wear. Check the press release below for more details on the new warranties and the tools themselves.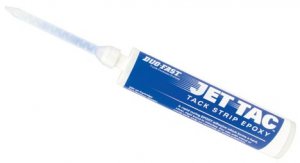 Manufacturer News
Chris   December 13, 2010  
0
0
VERNON HILLS, IL (October 2010) – Duo-Fast® Floor Fastening Systems (www.duo-fast.com), a leader in carpet and flooring installation tools for more than 40 years, is introducing Jet-Tac™ Tack Strip Epoxy, a quick-set epoxy that is ideal for tack strip installation on concrete or wood. "We've done our homework and listened to what carpet installers are looking for in fastening tack strip to concrete," said Rita Bockrath, Marketing Manager for Duo-Fast Floor Fastening Systems. "Jet-Tac™ has a number of features never before seen in this industry that are sure to save carpet installers time and...
3 results - showing 1 - 3