12 results - showing 1 - 10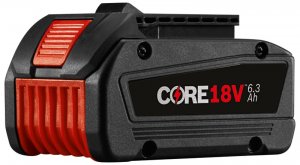 Tool Blog
Chris   January 18, 2017  
0
1
At a time where power tool manufacturers are racing to take every tool that is corded and making cordless versions, the battery technology also has to keep up. In order to power their upcoming "high-power" cordless tools, Bosch has created their new high-efficiency (GBA18V63) CORE18V 6.3Ah Battery.
Tool Blog
Chris   February 19, 2016  
0
3
Let's face it, we can never get enough runtime out of our batteries. Every year the manufacturers pack in more cells, that hold more juice, and we still want more. The desire for more power was seemingly so strong for one DeWalt cordless tools user that he decided to Frankenstein together his own DeWalt 8.1Ah battery.
Tool Blog
Chris   November 18, 2015  
0
1
On October 22, 2015, a class-action lawsuit was filed in the U.S. Court for the District of Minnesota against Makita U.S.A. Inc. by Sean Podpeskar over Makita's BL1815 and BL1830 18-Volt Lithium-ion batteries. The suit alleges violations of Minnesota's Unlawful Trade Practices Act, False Statements in Advertising Act, breach of express warranty, breach of implied warranty and fraudulent misrepresentation.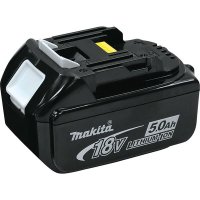 Tool Blog
Chris   November 12, 2014  
0
1
It was only a few months ago that Makita's 4.0Ah (BL1840) 18V batteries came out, and I wondered then, how long it would be until their highly anticipated 5.0Ah (BL1850) would follow. It turns out the wait will not be long at all, as the Makita BL1850 are set to come out in December 2014.
Tool Blog
Chris   September 26, 2014  
1
0
While here in the US Makita's 4.0Ah Batteries (BL1840) are just becoming available, over in the UK and other parts of the world they will soon have access to the new Makita 5.0Ah batteries. ToolStop, a tool store in the UK, has a look at the new BL1850 batteries and clues us in on all the details.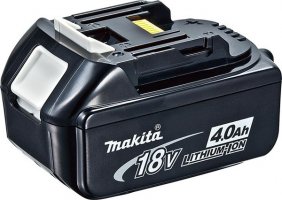 News
Chris   July 18, 2014  
0
2
Users, wanting greater runtimes in their tools, have been impatiently waiting for Makita to introduce their 4.0Ah batteries to the U.S. market. Though they have been available in other countries for months, we just got word that the new 2.0Ah (BL1820) and 4.0Ah (BL1840) batteries are finally starting to come out. In fact, the new 2.0Ah can already be found on sale now in new Makita 18V Compact Lithium-Ion Kits and Combo Kits.
Tool Blog
Chris   June 10, 2014  
0
3
DeWalt is introducing their next generation of batteries to work with their 12V and 20V MAX tool lines. The new EXTREME RUNTIME (XR) batteries offer a 2.0Ah capacity (DCB127) for 12V MAX and 5.0Ah capacity (DCB205) for their 20V MAX tools. Along with the new batteries is a new dual-port charger that can charge both batteries as well as a couple of USB devices.
Tool Blog
Chris   April 17, 2014  
0
1
Isn't competition great? Cordless tools are stronger than ever with brands racing and competing to deliver the most powerful tools; and now we are in a heated race to see who can pack the most Ah into a battery. Well, it looks like Bosch is taking the lead with their new BAT621 5.0Ah 18-volt battery arriving this May.
Hot Deals
Chris   April 25, 2013  
0
1
If you rely on cordless power tools, one of the best ways to improve their usability is to purchase additional batteries. But why purchase batteries when you can get them for free? I found a couple of deals that can get you free Bosch or Milwaukee batteries.
News
Chris   February 08, 2013  
0
1
The World of Concrete trade show is going on right now in Vegas and all of the major brands are there showing off their new 4.0Ah 18-volt batteries. Well, not all of the brands. Makita seems to be taking a pass on 4.0Ah and thinks 6.0Ah is the answer.
12 results - showing 1 - 10