Tool Blog
Wera Advent Calendar Counts Down The Days Until Christmas With Actual Tools
Wera Advent Calendar Counts Down The Days Until Christmas With Actual Tools
https://www.tool-rank.com/media/listing/photos/thumbnail/300x300s/d6/d0/fe/Wera-Advent-Calendar-37-1383557951.jpg
Chris   November 04, 2013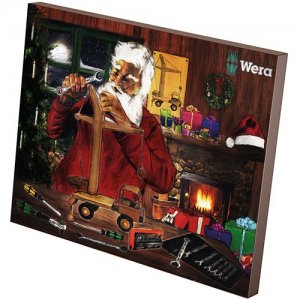 As children, how many of us remember opening up the little doors on an advent calendar to count down the days until Christmas? Wera is bringing back those fun times with an advent calendar geared towards men; but instead of chocolate or a simple message, there are tools hidden behind those doors.
For each day, starting on December 1 until Christmas, the calendar has a door that contains a different tool or accessory. Wera is well known for the quality of the tools they make, so we can be sure that each day will reveal a tool or accessory that we could use around the house or at work.
If you don't want to be surprised, take a look at what is included below.
(1) 160 i VDE insulated screwdriver for slotted screws
(1) 355 PZ screwdriver for Pozidriv screws
(1) 2050 PH screwdriver for Phillips screws for electronic applications
(1) 1441 screw gripper attachment for screwdriver blades, long bits and L-keys with holding function for screws
(1) Empty Bit-Check case for nine 25 mm bits
(1) Empty Mini-Check case for six 50 mm bits
(1) Universal bit holder 899/4/1 K for power tools and electronic drills
(9) 25 mm torsion bits: cross recess Phillips (851/1 TZ), cross recess Pozidriv (855/1 TZ), TORX (867/1 TZ)
(3) 50 mm torsion bits: cross recess Phillips (851/4 TZ), cross recess Pozidriv (855/4 TZ)
(3) 50 mm bits (867/4 Z)
(1) Joker open-ended wrench with retaining plate
(1) Bottle opener with Kraftform handle
If the Wera advent calendar still isn't manly enough for you, take a look at this beer advent calendar that you can build for yourself.
Wera
•
Christmas
•
hand tools