Crawford Storehorse 30-Inch Sawhorse Review
https://www.tool-rank.com/media/listing/photos/thumbnail/300x300s/37/dc/7e/1125_P1030994untitledFebruary_1330115807.jpg
Chris   February 24, 2012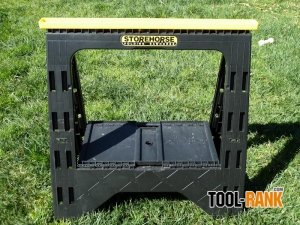 This might be hard for some of you to believe, but one of my most used tools on the jobsite is actually a pair of sawhorses. Whenever I need to cut a counter top, a wall panel or the occasional door I need a pair of sawhorses. Since I move around a lot on the jobsite, the lighter the horse the better, so plastic horses are a must. I have used a bunch of different saw horse brands over the years, but I have never been happy with any of them, that is, until I purchased a pair by Crawford. Read on to find out why I am finally a happy sawhorse owner.
If you want a quality saw horse, the Storehorse from Crawford is the way to go. These USA made saw horses are available in a few different sizes(30," 31", 36") so you can match the horse to fit your size needs. The construction on the Storehorses are really good, with a hinge mechanism that is smooth and keeps the horses holding strong when it is locked into place. It's the little things on this horse that really put it above the rest. A handle built into the lower table makes these horses super easy to carry around when they are folded. I can carry both horses comfortably in one hand with no worry of them dragging on the ground.
One thing we all hate about cutting on top of sawhorses, is worrying about cutting into the plastic top, or even worse if you have metal sawhorses. If you are not careful you could end up cutting your horse almost in half. Crawford has a simple fix that can almost eliminate the accidental (or lazy) cut into your horse. Built into the top of each Storehorse is a little slot that can hold a piece of 2x lumber. The slot has little grippers built in that do a pretty good job of holding the wood in place once everything is set up, though a place to more securely fasten the wood with screws or bolts would have been nice. The cool thing about this setup is that the 2x can easily be replace when it has been used up with some scrap wood commonly available on the jobsite. If you are doing deep cuts, you can deck your horses out with a full 2x4, or if you want to travel light you can use a 2x2.
I am really happy with my purchase of these horses even though they cost about $60 for a 30-inch pair. It is worth the price for horses that function well and knowing that these will last more than a year or two; it is a bonus that they are supporting American workers. The 30-inch pair can hold up to 1000lbs of weight, which is more than enough for me.

Crawford Sawhorses - Amazon
made in USA
•
saw horse
•
gallery
•
Crawford
•
Storehorse
•
editor review