Anker 757 PowerHouse Good for the Workshop, or Just Hype? [REVIEW]
New
https://www.tool-rank.com/media/listing/photos/thumbnail/300x300s/5d/cf/b1/Anker-01-62-1668470658.jpg
Chris   November 16, 2022  
When Anker asked if I wanted to review their new Anker 757 PowerHouse portable power station, I wasn't sure if it would be a good fit for ToolRank. All I knew about Anker at that point was that they made phone chargers and USB power banks. I questioned if something like the 757 PowerHouse could really compete against portable power stations built by the big tool companies specifically for workshop and jobsite use. Are they even in the same class? The Anker Rep. I spoke with seemed to think so, and that was all that I needed to hear from them to move forward with a review. It was now up to them to prove it.
The Anker PowerHouse lineup sure doesn't look like the bright-colored tools I am used to seeing in a workshop or on the jobsite. Instead of colors that scream "Look At Me", the PowerHouse stands out with its shiny metal housing and sleek lines. All that metal is more than just for looking good though, the aluminum runs throughout the frame to provide strength, vibration protection, and over-temperature resistance.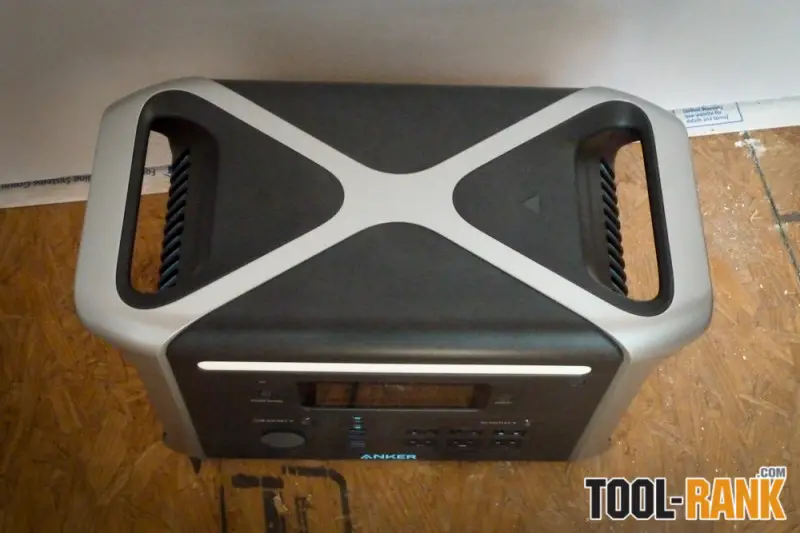 Other than being a portable power station like the DeWalt PowerStation (I previously reviewed), the two are more different than they are the same. The DeWalt has a couple of advantages that are worth noting, though. First, is the way it uses your existing DeWalt Batteries, second, is the ability to provide 1800 watts of continuous power. Other than those two things, in my opinion, the Anker is superior in every other way.
One of the first things that caught my eye when going over the features of the Anker 757 is the fact that it provides a Pure Sine Wave. This means that the 1500 watts of continuous power that the 757 delivers mimics the power that comes straight from the electric company. This is something the DeWalt PPS is lacking, and it is something that has the potential to damage sensitive electronic devices.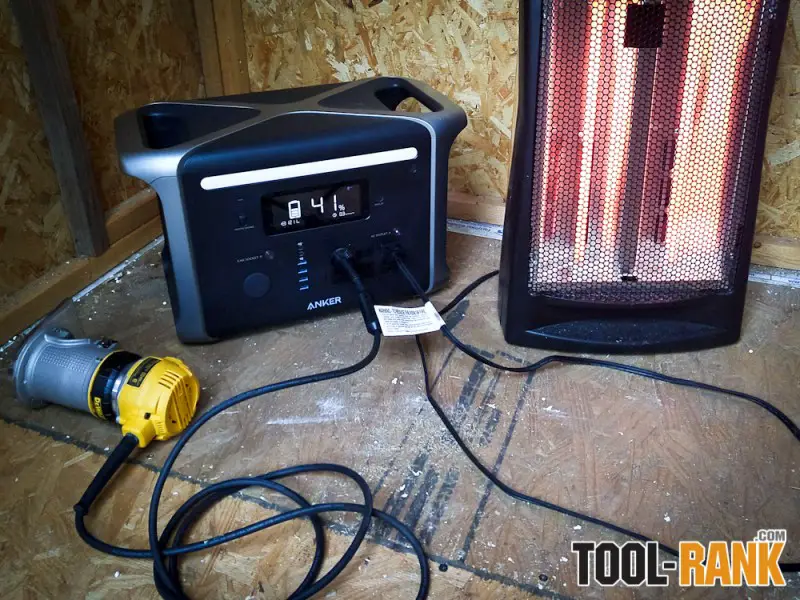 While 1500 watts(12A) is enough for most devices, some tools do require 1800 watts(15A) of power and it is a shame that Anker could not provide that. That being said, I tested out several tools that say they are 1800 watts, and they all powered up just fine with the Anker 757 PowerHouse. During testing, I was able to push the Anker 757 to around 1700 measured Watts without issue. Its peak seems to be around 2400 Watts before it instantly goes into a protection mode and shuts itself down.
With 1229Wh of total battery power capacity, you can get around 30-minutes of runtime when using the full 1500 watts; lower draw electronics can run significantly longer. A CPAP (40W) is estimated to run for up to 24.5 hours. A phone can be charged over 90 times. With a total of 6x 120v power outlets, 2x USB-C, 4x USB-A, and 1x 12V Car outlet, you can power several different devices all at once until you reach that 1500 watts.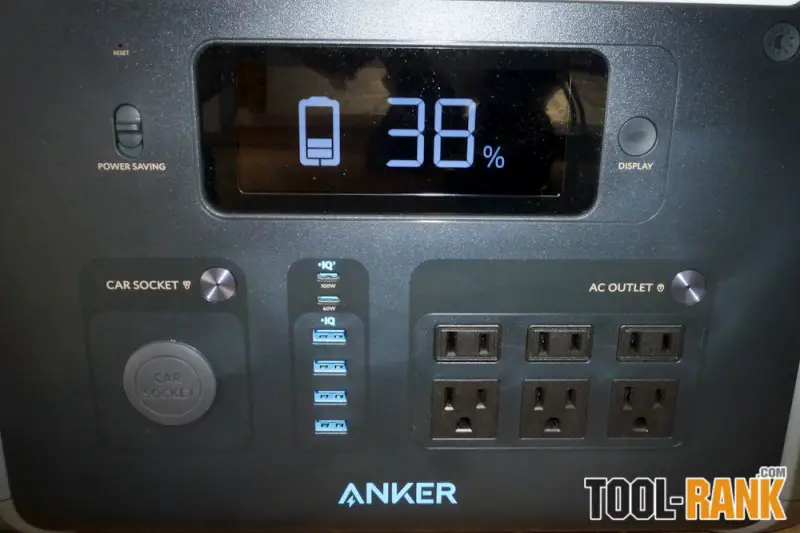 Doing some real-world testing with my refrigerator, I was surprised at how long it could run. A refrigerator does draw some high peak current, but it is only for short periods of time. Most of the time only a small circulation fan is running. In an emergency situation, I could see the Anker 757 powering a refrigerator for a full day if left closed.
One way I have come to use the Anker 757 PowerHouse in my workshop is as an Uninterruptible Power Supply (UPS) for my CNC machine. In the event of a power loss, the Anker 757 is able to switch over to its onboard battery power in under 20ms and my CNC is none-the-wiser. Otherwise, a loss of power could result in a ruined project or a damaged CNC machine.
One concern I had about the Anker 757 PowerHouse is how it would handle jobsite dust. With a fan drawing cool air through the internals, would it need to be cleaned out occasionally? Anker responded to my question and said that dust wouldn't be an issue. Still, it is probably best to keep dust exposure to a minimum.
The most amazing thing about the Anker 757 PowerHouse is that it can reach an 80% charge in only 1 hour, and a full charge in only 1.5 hours when charging from the wall. This crazy fast charging speed is thanks to Anker using some of the latest battery technology, specifically the use of LiFePO4 batteries. Notice I said when "charging from the wall"? That is because you can also charge it from your car with the included charging cable, or by using 11-30V Solar Panels (sold separately).
Other notable features include a built-in 3-mode emergency light with an SOS function, a digital display, and a power-saving option that turns off the power station when all your devices are fully charged.
To answer the question in the title, is the Anker 757 good for the workshop, or is it just hype? It is not just hype. When compared to other portable power stations on the market the 757 PowerHouse has features and technology the others lack. The battery chemistry alone offers around double the life cycles as the traditional lithium-ion batteries found in other power stations, which is why Anker can offer a 5-year warranty.
Having only 1500 Watts available to run power tools might be a deal breaker for some, but Anker has just announced their new 767 PowerHouse that offers 2400watts and an even larger 2048Wh battery. If you really need 15amp or even 20amps, the Anker 767 is the one you want. Of course, Anker also offers smaller options with less capacity and lower Amp ratings.
The Anker 757 PowerHouse normally sells for $1,399.99 but I was able to partner with Anker, and they are offering ToolRank readers a discount of $420 OFF when you use Coupon Code TOOLRANK757 during checkout. This offer expires on December 10th, 2022. - Anker Store
portable power
•
Anker
•
PowerHouse
•
power station
•
757 PowerHouse