Senco Standard Pressure Pneumatic Concrete Nailer
https://www.tool-rank.com/media/listing/photos/thumbnail/300x300s/52/0c/b4/senco-cnailer-78-1366961194.jpg
Chris   April 26, 2013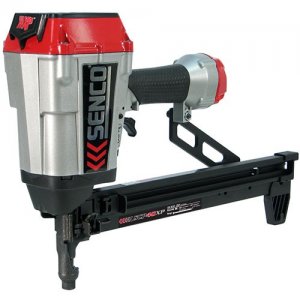 If you want to nail into concrete using pneumatics, usually you need a special high-pressure compressor to go along with a high-pressure nailer. Senco's new SCP40XP concrete nailer lets you use your regular air compressor yet drives up to 1-1/2-inch nails into concrete.
High-pressure compressors can easily cost you more than $1000, so when Senco says they have a pneumatic concrete nailer that runs on standard air pressure, the benefits are more than obvious. The SCP40XP can drive ½-inch to 1½-inch long steel collated nails into concrete, concrete block and steel, and they say it can do it 10 times faster than a powder actuated nailer. Considering the higher magazine size and the fact that you do not have to cock the tool after each shot, I don't doubt that it could be a huge time saver.
With an MSRP of $469, the SCP40XP seems like a much cheaper alternative to high-pressure nailers and the required compressors, or even the fastest powder actuated drivers.
FYI. I don't know why, but this also seems to be referred to as model 7J0001N.
Senco
•
SCP40XP
•
7J0001N
•
pneumatics