Introducing The Benchmark Portable Work Table
https://www.tool-rank.com/media/listing/videos/thumbnail/300x300s/c8/23/29/J4UYHN4ieCs.jpg
Chris   October 07, 2011  
Check out this new multifunction table that is sure to give the Festool MFT some competition. If size matters to you, take a look at the Benchmark Portable Work Table from Hagar Tools. The Benchmark is a foldable aluminum work table that is big enough to allow users to rip down full 4'x8' sheet goods.
One of the design features that I like is that the Benchmark uses stretchers instead of a full top, which give users the ability to access their material from underneath. The stretchers are made of high-density polyethylene, and you will notice that they are raised above the main body of the work table; this lifts the sheet goods so that you can make safe cuts without worrying about damaging the aluminum frame. The stretchers also have recesses cut into them so that cuts can be made lengthwise as well.
The Benchmark also has a bunch of accessory option that make it even more useful. Raiser pegs can be fitted into holes in the stretchers and can be used to lift your material higher for routing, or jigsaw cutting. An adapter accessory plate is also available and can be used to mount a fixture or jig to the table top. Tool trays can be purchased which mount to the legs of the bench thus providing storage for your parts and Benchmark accessories. Hagar Tools also has a Miter Saw station addon in the works.
The Benchmark weighs in at 50lbs, but once setup it looks like I would make a great jobsite work station. The legs on the table do fold in, so I could also see the Benchmark work well as a portable home work table. Purchase some of the available locking casters, and it can be rolled onto the driveway. As someone who cuts down a good amount of wall paneling, I can appreciate any tool that makes breaking sheet goods down a simpler task. The Benchmark Portable Work Table certainly appears to be one of those tools, and looks like it was designed by a person who cut sheet goods all day long. I think the Benchmark is a great deal at $350, when the Festool MFT is priced at almost $600. For $450 you can get the Benchmark Pro which includes 2 tool trays, 2 adapter plates, 6 raiser pegs, and a cord whip.
2920

views
December 02, 2012
-
02:22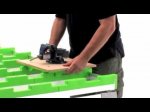 BenchMark Portable Work Table - Work Bench & Cutting Table
The Benchmark is a revolutionary concept in portable work tables created for the home repair, contractor, and DIY markets. Check out our website at http://www.BenchmarkTable.com for more information. Nine separate pathways across the tabletop allow for unobstructed blade travel as you cut anything from a 4x8 sheet of plywood/drywall to dimensional lumber. Crossbars create gaps that allow access both above and below your project. All surfaces are available for clamping. Four independently adjustable Leveling Feet help compensate for uneven work surfaces. A uniform grid of attachment locations allows for the placement of Benchmark accessories anywhere on the tabletop--as well as for unlimited customization using the Adaptor Plate (included for a limited time). 4 Riser Pegs are also included with each Benchmark Portable Work Table. For a limited time only, all Benchmark Portable Work Table orders qualify for a FREE Adaptor Plate and $28 shipping anywhere in the continental United States! Some assembly required. Table dimensions (unfolded): 64.25"L x 37.5"W x 32.75"H Table dimensions (folded): 64.25"L x 37.5"W x 6.5"H Footprint: 80" x 37.5" Weight: 53lbs
woodworking
•
Benchmark
•
Festool
•
Hagar Tools
•
MFT
•
saw horse
•
table
•
work table
•
workbench