2 results - showing 1 - 2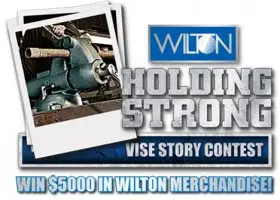 Around The Web
Chris May 03, 2012
0
0
Contest Information
Contest Ends
September 14, 2012
It doesn't matter if you do woodworking, metalwork, or DIY home repair, one tool that you need to have in your shop is a heavy-duty vise; and when we think vise we think of Wilton. If you have a Wilton vise story, Wilton wants to hear about it. Your story and vise photo could win you $5000; but even of you don't win, Wilton will still give you one of their c-clamps (value $84). Wilton has been around for 71 years now, and there is probably a pretty good chance that you have used one of...
News
Chris September 19, 2011
0
0
Wilton has introduced a new sledge hammer named BASH that they claim has a handle that is unbreakable. Now I have a hard time thinking that anything is truly unbreakable, and I believe the actual warranty for the BASH will state that the handle is unbreakable under normal conditions, but the fact that they back up their tool's handle with a $1000 guarantee for 2 years, thus putting their money where their mouth is, should add a bit of confidence to anyone purchasing the tool. What makes the BASH handle so much better than...
2 results - showing 1 - 2