11 results - showing 1 - 10  
Tool Blog
Chris   June 02, 2016  
0
1
Rockwell is proving once again that they are a major player in the oscillation tool market, this time by coming out with a new feature that no other oscillation tool has. Improving on the already great Rockwell F50 Sonicrafter (read the review), the new F80 adds the game-changing new Duotech feature.
Tool Blog
Chris   February 27, 2015  
0
1
Rockwell is proving that they can keep up with the big boys by coming out with their own brushless Drill & Impact Driver Combo Kit. Their brushless motor technology increases battery runtime by 50% per charge over brushed motors and is backed by a 10-year warranty.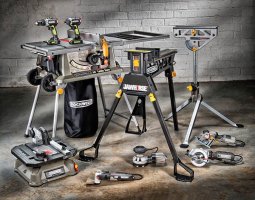 Hot Deals
Chris   November 18, 2014  
0
1
If you are paying full price this holiday season you are probably overpaying. With Christmas soon approaching, all it takes is a little research and you could be saving big on your holiday shopping. In this case, however, there is no research involved; Tool-Rank has teamed up with Rockwell Tools to offer coupon codes for Black Friday, Cyber Monday, and even a code that is good for the rest of 2014.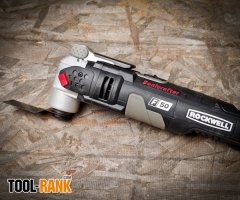 Reviews
Chris   October 31, 2014  
0
10
When Rockwell Tools  announced their new F50 Sonicrafter I was really impressed with a number of the new features. What I was most impressed with was that it had a much larger angle of oscillation. I had always figured that oscillating multi-tools would benefit from a larger oscillation angle, so when Rockwell asked me to do a review, I would finally have a chance to see if I was right.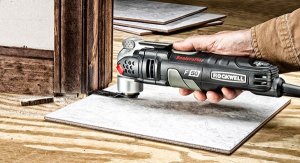 Tool Blog
Chris   August 04, 2014  
1
1
Rockwell has just announced a pair of new Sonicrafter oscillating multi-tools with specifications that seem to top all the other competing brands. With all of the multi-tools on the market from a number of different manufacturers, could it be Rockwell that knocks Fein off of Oscillation Hill?
Hot Deals
Chris   February 07, 2014  
0
1
Amazon has a new sale price on the Rockwell RK9002 JawHorse Sheetmaster. The Sheetmaster model is an upgraded version of the classic JawHorse that offers a larger clamping capacity of 49-inches, which allows it to clamp plywood and other sheet goods. The Rockwell Sheetmaster is typically priced at around $200, but the current Amazon price saves you about $25.
News
Chris   January 22, 2013  
0
4
It looks like Rockwell Tools is bringing the 14.4V cordless class back from the dead. With 18V tools becoming more powerful than ever and 12V tools becoming smaller than ever, Rockwell is looking to fill the gap.
News
Chris   December 04, 2012  
1
0
Every year as a child my brother and I were sent an advent calendar from our Grandparents so that would could countdown the days to Christmas. I am sure that many of you shared a similar experience and enjoyed counting down the days. But now you are older and opening little windows to look at funny pictures just isn't enough anymore. So let the kids have the funny calendar while you enjoy marking the days with your favorite beverage..
News
Chris   September 12, 2012  
0
5
Rockwell was one of the first to come out and compete in the oscillating tool market, but it was so long ago that their current oscillating tool was starting to show its age. I was just thinking that Rockwell needed to come out with an update, and what do you know, they give us four updates.
News
Chris   January 27, 2011  
0
0
We have miter saws with lasers, drills with lasers, and even hand saws with lasers, but up until now I have never seen a table saw with a laser. Rockwell has finally given us the laser line table saw you never knew you needed. The laser is designed to make it easier to see exactly where the saw blade will meet the wood, and should really come in handy for getting accurately sized miter cuts. The laser grabs our attention, but there is more to the saw. This is the first jobsite table saw...
11 results - showing 1 - 10