15 results - showing 1 - 10  
Tool Blog
Chris   December 15, 2015  
0
2
Milwaukee One-Key is a new feature that Milwaukee announced back in September that allows One-Key enabled tools to communicate wirelessly with smartphones running the One-Key App. While the App was released in September, since no One-Key enabled tools were available, it was only really useful for tool inventory management. That is all about to change February 2016 when the first One-Key enabled tools with Tool Control will hit store shelves. These first One-Key Tool Control tools will be a selection of M18 Fuel Drills and Impacts.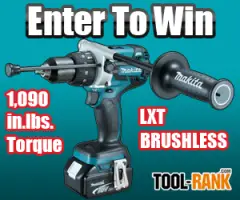 Tool-Rank
Chris   October 01, 2014  
0
1
Contest Information
Contest Ends
October 31, 2014
Tool-Rank is happy to be teaming up with Makita this month to give away their brand new 18V Brushless Hammer Drill/Driver. The Makita XPH07 delivers the most torque in its class at a jaw-dropping 1,090 inch pounds. Not only is it powerful, but Makita packed in all kinds of fancy technology that ensures that you get the most runtime out of your tool. To learn more about the XPH07 be sure to read my initial write-up on the new hammer drill.
Tool Blog
Chris   August 19, 2014  
0
1
Makita has just announced their newest brushless hammer drill, and it looks like they are not messing around this time. They say the XPH07 18-Volt Hammer Drill is able to deliver a full 1,090 in.lbs of torque, and leads the category in torque, speed, and run-time.
Tool Blog
Chris   April 03, 2014  
0
1
If you have ever used a large hole-saw in a drill you know the dangers that can happen if the saw binds into the wood. The drill will either twist right out of your hand, or your wrist will end up twisting right along with it. To prevent this from happening, Bosch's new DDH181X Drill and HDH181X Hammer Drill use something called Active Response Technology.
Manufacturer News
Chris   October 04, 2013  
0
2
Milwaukee Tools is set to release a total of six new M18 Compact Drills and Drivers over the next few months that will replace existing models. The new models include two Drills (2606-22CT, 2607-22), two Impact Drivers (2657-22CT, 2656-20), and Two Impact Wrenches (2658-22, 2659-22). All six boast improvements to ergonomics and overall performance.
Manufacturer News
Chris   October 02, 2012  
0
3
Who do we turn to when we need saving? Why the Justice League of course. But who does the Justice League turn to when the Hall of Justice needs saving from disrepair? Apparently they turn to the Craftsman Technician and his trusty Craftsman Bolt-On Modular Tool System.
News
Chris   August 29, 2012  
0
3
The Makita LXT 18V Cordless line continues to grow with some surprising additions to their website. The new tools include a next generation LXT hammer drill, next gen LED work light that can handle more jobsite abuse, and a surprising new cordless random orbital sander.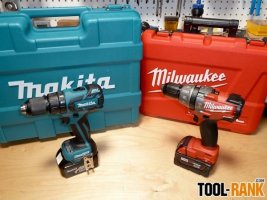 Reviews
Chris   June 26, 2012  
0
25
Brushless motors are the latest innovation to hit cordless power tools. In fact it is so new that there are few cordless tools that take advantage of the technology. In this article I am going to review two brushless drills that are available now, the 2604-22 Milwaukee Brushless Hammer Drill and the LXPH05 Makita Brushless Hammer Drill. Just for a stat comparison, I also threw in last years HDH181 Bosch Hammer Drill which is not brushless.
Manufacturer News
Chris   March 19, 2012  
0
0
Makita introduced a new Impact Driver (model LXDT04) and a new Hammer Drill (model LXPH01) over the weekend, but their specifications lead me to believe that these belong in a mid-range class. I don't know that Makita officially has a mid-range class of tools, but I believe these tools fall into that class for a number of reasons. Either that or Makita is moving in the wrong direction in order to produce more compact tools.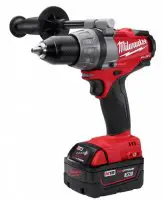 News
Chris   March 13, 2012  
0
1
The evolution of tool technology continues to impress, and Milwaukee is leading the charge with their latest line of cordless drills. Their new M18 FUEL line features the latest in drill technology, yet still manages to remain affordable to tradesman. So what makes the M18 FUEL line so special? How about better power, longer run times and long tool life?
15 results - showing 1 - 10