2 results - showing 1 - 2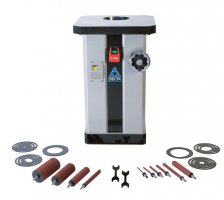 Manufacturer News
Chris   April 26, 2012  
0
4
It looks like things are picking up steam over at Delta Power Equipment. It has been a little over a year since Delta was sold from Back & Decker, and they are expanding their line of shop tools with four all new heavy duty sanding machines. The new tools include a Dual Drum Sander, Oscillating Edge Sander, Oscillating Bench Spindle Sander and Oscillating Spindle Floor Sander. For more information, read on.
Around The Web
Chris   February 13, 2012  
0
0
Contest Information
Contest Ends
February 29, 2012
So now that you have entered to win some woodworking tools from Powermatic, your next step is to enter to win some goodies from their sister company Jet; Walter Meier must be in a giving mood. Up for grabs in the Jet sweepstakes is a 16-32 Plus Drum sander that can quickly sand smooth the surface of your materials, and a Vortex Cone Duct Collector to make sure all that dust from the drum sander has a place to go. The prize package is valued at $2,182.
2 results - showing 1 - 2