17 results - showing 1 - 10  
Tool Blog
Chris   September 02, 2015  
1
1
It is easier than ever to find great cordless power tools no matter the brand, so to set your company apart from the rest you need to think outside the box. DeWalt may have done just that with their new line of Bluetooth enabled 20V MAX 2.0 Amp (DCB203BT) and 4.0 Amp (DCB204BT) lithium ion batteries. Of course, Bluetooth by itself is pointless, which is why DeWalt has introduced their Tool Connect App, which allows users to control their new batteries with their smartphone.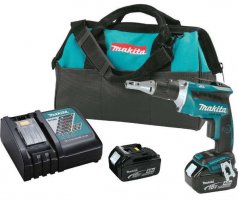 Tool Blog
Chris   January 05, 2015  
0
3
Makita has come out with a new 18V cordless, brushless drywall screwdriver (XSF03M) that is powered by their new 18V 4.0Ah batteries, which they say has the power and performance of a corded drywall screwdriver. The benefit, of course, is that there is no cord to get in the way.
Tool Blog
Chris   December 11, 2014  
0
1
Makita has announced the release of their new XOC01M 18V cordless cut-out tool for drywall. Powered by the Makita 4.0Ah battery, it is capable if making up to 100 single gang box cuts into ½-inch drywall on a single charge.
Reviews
Chris   October 17, 2014  
0
14
When Milwaukee announced that they were coming out with an 18-volt cordless 7-1/4-inch circular saw I was both shocked and impressed. Why? Just months earlier one of their competitors came out with the first cordless 7-1/4-inch circular saw, but it required 2x18V batteries (36V). Could Milwaukee do the same with one less battery? To find out for myself, Milwaukee sent me their 2731-21 M18 FUEL Brushless 7-1/4" Circular Saw Kit to review.
Tool Blog
Chris   September 26, 2014  
1
0
While here in the US Makita's 4.0Ah Batteries (BL1840) are just becoming available, over in the UK and other parts of the world they will soon have access to the new Makita 5.0Ah batteries. ToolStop, a tool store in the UK, has a look at the new BL1850 batteries and clues us in on all the details.
Tool Blog
Chris   August 29, 2014  
0
1
Makita is continuing to expand their Brushless line of cordless tools, this time with a new 3-speed ½-inch Impact Wrench, model XWT02M. The new impact wrench kit will also include the new Makita 4.0Ah batteries, which have a best-in-class charge time of only 40-minutes.
Reviews
Chris   August 22, 2014  
1
12
Up until recently I wouldn't have been interested in reviewing a cordless lawn mower, but with the new battery and motor technology that is available, my interest in them had piqued. Could they finally compete against their noisy gas filled brothers? It just so happened that Sun Joe contacted me and asked if I wanted to review their new 40V Cordless Brushless Mower, so I had to say yes. I wanted to see for myself if their time to shine had come.
Tool Blog
Chris   August 19, 2014  
0
1
Makita has just announced their newest brushless hammer drill, and it looks like they are not messing around this time. They say the XPH07 18-Volt Hammer Drill is able to deliver a full 1,090 in.lbs of torque, and leads the category in torque, speed, and run-time.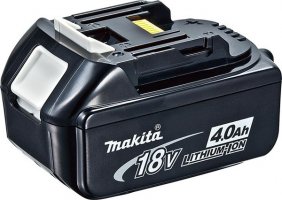 News
Chris   July 18, 2014  
0
2
Users, wanting greater runtimes in their tools, have been impatiently waiting for Makita to introduce their 4.0Ah batteries to the U.S. market. Though they have been available in other countries for months, we just got word that the new 2.0Ah (BL1820) and 4.0Ah (BL1840) batteries are finally starting to come out. In fact, the new 2.0Ah can already be found on sale now in new Makita 18V Compact Lithium-Ion Kits and Combo Kits.
Tool Blog
Chris   April 28, 2014  
0
1
Milwaukee continues to push out M18 Fuel tools at a staggering pace. The latest tool to get Milwaukee's brushless motor treatment—among other advancements—is their Deep Cut Band saw with a 5"x5" cutting capacity.
17 results - showing 1 - 10