Contest Information
Contest Ends
June 30, 2017
It is pretty common to find yourself working on a jobsite with less than ideal lighting conditions. Even when supplementing the light you will often find yourself working within the shadows. To lessen your chances of making mistakes, Empire Level has come out with a new line of lighted levels. They are so eager to show off their goods they are giving a new em95.10 TRUE BLUE UltraView Magnetic Torpedo Level to two lucky winners.
Chris February 05, 2013
1
2
Contest Information
Contest Ends
February 28, 2013
The Robert Bosch Tool Corporation and Ram Truck brand announced today at World Of Concrete trade show that they would be forming a strategic partnership. Together the two companies will jointly pursue sales and marketing opportunities in both markets that benefit both companies.
Chris December 12, 2012
0
1
Contest Information
Contest Ends
December 25, 2012
I seems like every year at this time all of the brands like to give stuff away for Christmas, and this year is no exception. Husky is doing one of the larger giveaways and is giving away a prize every day until Christmas.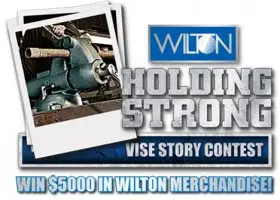 Contest Information
Contest Ends
September 14, 2012
It doesn't matter if you do woodworking, metalwork, or DIY home repair, one tool that you need to have in your shop is a heavy-duty vise; and when we think vise we think of Wilton. If you have a Wilton vise story, Wilton wants to hear about it. Your story and vise photo could win you $5000; but even of you don't win, Wilton will still give you one of their c-clamps (value $84). Wilton has been around for 71 years now, and there is probably a pretty good chance that you have used one of...
Chris February 13, 2012
0
0
Contest Information
Contest Ends
February 29, 2012
So now that you have entered to win some woodworking tools from Powermatic, your next step is to enter to win some goodies from their sister company Jet; Walter Meier must be in a giving mood. Up for grabs in the Jet sweepstakes is a 16-32 Plus Drum sander that can quickly sand smooth the surface of your materials, and a Vortex Cone Duct Collector to make sure all that dust from the drum sander has a place to go. The prize package is valued at $2,182.
Chris February 13, 2012
0
0
Contest Information
Contest Ends
February 29, 2012
Want to do some woodworking and look cool during the process? The new Onyx limited edition series of tools from Powermatic can help you out with both. The black and gold color scheme on the Onyx tools has us thinking Powermatic should just make it their default color choice. Most of the time limited edition tools will end up costing you big, but you have a chance to win a Powermatic 14-inch Bandsaw and a PM2800 Drill Press valued at $2,804.
Chris January 20, 2012
0
1
Contest Information
Contest Ends
March 31, 2012
If you are a Man that spends his days using the different tools of the trade, then your hands probably show it. You have battle scars and calluses that match up perfectly with every imperfection on your favorite tool. When the tool doesn't fit your hand, your hand does a better job of fitting the tool. Your hand tells the world that you can build things, and O'Keeffe's Co. wants them.
Chris December 22, 2011
0
0
Contest Information
Contest Ends
January 01, 2012
Running cords and air hoses all over a roof is not only a pain, but they also create a bunch of potential tripping hazards. So when Duo-Fast announced the first ever cordless fuel roofing nailer back in 2010, you could see that is was going to be a popular tool. In the price range of $500, the Duo-Fast cordless roofing nailer is not in everyone's budget, but if you fill out a short survey, you will be entered for a chance to win one. The giveaway ends on January 1st, so if you are...
Chris October 24, 2011
0
1
Contest Information
Contest Ends
October 31, 2011
How would you like to win a $200 Tyler Tool store credit? Yes, I like to ask questions with easy answers. Just scroll back and look at some of my past new tool articles, because I know there have been a few tools that you have seen that have somehow got a hold on you. Wouldn't it be nice if you could just shop, without having to worry about whether you should have spent the money on something else, possibly more important? Well, that is what is so great about a store credit from Tyler Tool, you have no...
Chris October 05, 2011
0
0
Contest Information
Contest Ends
November 30, 2011
One of the things I try to do every weekend, is to watch the woodworking shows that are on PBS. Some times I get caught up in another project and forget to tune in, or even worse, I tune in only to see that PBS is trying to make money and has pulled the show for the day, but I like to watch when I can. I am not much of a woodworker, so I watch mostly for entertainment value, but if I was more into woodworking, all those shop tools are darn expensive? ...