20 results - showing 1 - 10  
If you loved the Etch-A-Sketch as a child and find yourself missing it as adult, then you will like what one guy built in his workshop. With only a few dollars worth of parts and a router, YouTube's Izzy Swan made the grown-up version of the classic child's toy. But instead of drawing with aluminum powder, his version carves into wood with a router. Like the classic Etch-A-Sketch, it takes great skills to draw something that actually looks like something—so I will not be making one of these.
Matthias Wandel, of woodgears.ca once again proves that he can build pretty much anything out of wood and other scraps he has lying around his shop. In previous videos he built himself a wooden scaffold to reach the lights that needed to be changed in his large shop. In his latest video he uses more scrap wood and a drill to motorize his scaffold, complete with forward, reverse, and steering. The results are more impressive than you might have thought.
Not that the following video is any less awesome than "The Best Woodworking Video Ever Made", it's just that that video came out first, and this video came out second. Again, like the first, this woodworking video was shot using stop-motion animation. Not only is the video production amazing, but you can see this woodworker has some real woodworking skills.
Chris   January 28, 2014  
1
0
Something we learn as a carpenter, or maybe more so as a woodworker, is that we can never have too many clamps. Building up a collection of clamps is usually something that is done over many years, which helps spread out the costs. But if you need clamps now and don't have a bunch of money, there is another option—make your own.
Chris   September 19, 2013  
2
0
The title pretty much says it all. Below is what I feel to be the best woodworking video ever made. Why? It is not because of what was made, but because of how it was being filmed. The almost 10 minute video of a chair being built from scratch was shot using only stop motion animation. Below is the video along with the "making of video".
When the utensils at the kitchen supply warehouse just didn't cut it, some Chefs turned to power tools to get the job done right. Everything from cordless drills with hole-saws, to putty knives can be used. And since you have the tools in the kitchen, why not have a Craftsman drawer toolbox to store them all in?
When a bridge was washed out in Siberia there was only one way to get people across. The water was moving too fast for people to use small boats, so another way had to be devised. So what did they turn to? You already know, because you read the article title—excavators.
Chris   October 17, 2012  
1
0
The excavator tricks we see on the internet that would normally impress us have now been made to look like mere child's play compared to the trick you are about to see. Self loading into a dump truck was cool, but it appears as though people have elevated their game.
We all love to see things in slow motion. We get to see how the items we use every day really work and what secrets they hold that are normally hidden by normal speed. Check out the video below to see how your everyday Bosch tools work in slow motion. One thing we can see for sure is that it is always best to wear safety glasses when working with tools; there is a lot of small debris flying around.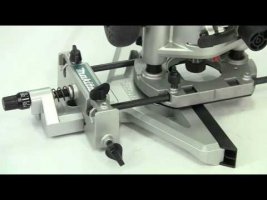 Makita UK has come out with a great video that showcases the new RT0700C router and all of the different base options that can be used with the new 1-1/4 HP compact router. Be aware that the kits themselves appear to be different from those offered here in the US, but the tools should be pretty much the same. The video also shows how the router can be used with other Makita accessories, like the track for their track saws. If you want to know more about the Makita RT700C before you make your purchase,...
20 results - showing 1 - 10