Tool Blog
Why The Galaxy S7 Active From AT&T Might Be The Best Jobsite Phone
Why The Galaxy S7 Active From AT&T Might Be The Best Jobsite Phone
https://www.tool-rank.com/media/listing/photos/thumbnail/300x300s/0b/1a/c8/273700-mrq-Samsung-Galaxy-S7-Active-87-1465288401.jpg
Chris   June 07, 2016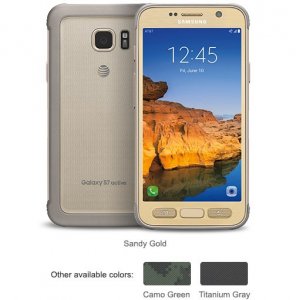 For those of you looking for a phone that won't break at first glance of a construction site, Samsung is bringing a more rugged version of the Galaxy S7 to AT&T. The Galaxy S7 Active has all the premium internals of the regular S7, like a Snapdragon 820 processor, 4GB of RAM, 32GB of storage, a 12MP rear camera, a fingerprint sensor, a MicroSD card slot, NFC, wireless charging, and a 5.1-inch quad HD screen, but it gets some major changes to its externals that allow it to handle a more active environment.
I have known more than a few people who have broken a phone or five thanks to the dangers of the jobsite. One coworker of mine seemed to go through a phone every few months and I don't know that I ever saw him with a phone that didn't have a broken screen.
Some of the upgrades to the S7 Active include a shatter-resistant screen, an IP68 rating for water and dust resistance, and a larger 4,000mAh battery. The other big change is the use of physical Home and Navigation buttons instead of capacitive buttons.
So why get an Active S7 instead of an S7 and a really good phone case? Size. The design of the S7 Active does make it a bit larger than an S7, but it will still be smaller than an S7 with a tough case. The larger 4,000Mah battery might also win some people over. If you spend your day sending emails, writing reports, or listening to the radio with the onboard FM-tuner, that extra juice might come in handy.
The Samsung galaxy S7 Active will start selling on June 10, but unfortunately, you can only get it through AT&T; which is great for AT&T users, but bad news for the rest of us. - AT&T
734

views
June 12, 2016
-
03:35
Galaxy S7 Active vs. Galaxy S7 Drop Test!
We drop test the new Samsung Galaxy S7 Active from AT&T and compare it side by side with the regular Galaxy S7. Samsung says the S7 Active is shatter resistant, so we put that claim to the test #phonebuffstyle! Music by The Beat Smiths: https://soundcloud.com/thebeatsmiths For behind the scenes and more, follow us here: http://www.facebook.com/phonebuff http://www.twitter.com/phonebuff http://www.instagram.com/phonebuff http://www.google.com/+phonebuff
Samsung Galaxy S7 Active hands on
S7 Active announced - everything you need to know: http://goo.gl/SiVDiK | Full hands on: http://goo.gl/XHrbEn How does a water resistant phone become even more rugged? Samsung has the answer: the Galaxy S7 Active! Let's find out what it's all about in this hands on! Download the AndroidAuthority App: https://play.google.com/store/apps/details?id=com.androidauthority.app Subscribe to our YouTube channel: http://www.youtube.com/subscription_center?add_user=androidauthority ---------------------------------------------------- Stay connected to Android Authority: - http://www.androidauthority.com - http://google.com/+androidauthority - http://facebook.com/androidauthority/ - http://twitter.com/androidauth/ - http://instagram.com/androidauthority/ Follow the Team: Josh Vergara: https://plus.google.com/+JoshuaVergara Joe Hindy: https://plus.google.com/+JosephHindy Lanh Nguyen: https://plus.google.com/+LanhNguyenFilms Jayce Broda: https://plus.google.com/+JayceBroda Gary Sims: https://plus.google.com/+GarySims Kris Carlon: http://plus.google.com/+KrisCarlon Nirave Gondhia: http://plus.google.com/+NiraveG Kris Carlon: http://plus.google.com/+KrisCarlon John Velasco: http://plus.google.com/+JohnVelasco Bailey Stein: http://plus.google.com/+BaileyStein
Samsung S7 Active
•
AT&T
•
smartphone