Timberland PRO Rip Saw Logger Boots Review
https://www.tool-rank.com/media/listing/photos/thumbnail/300x300s/ce/a5/37/Timberland-Rip-Saw-2-23-1395819983.jpg
Chris   March 26, 2014  
You can't just review a pair of boots after trying them out for a few days or weeks, so when Timberland PRO sent me a pair of their Rip Saw Logger Boots, I decided I needed to take some extra time. Many things work well new, and the Rip Saw Logger Boots were no exception, but I wanted to see how comfortable they were over time.
One of the first things I noticed when I took these boots out of their box was how good they looked. Not only do they look rugged and manly a first glance, but you can see the quality in the small details. For example, the upper hardware is dual-purpose for lacing, meaning you can hook the laces for quick tying, or you can go through the eyelet holes. Even putting the boots on is made easy with hidden grips that are built right into the sides of the boots.
The whole outer layer of the boot is made of leather, with the top two-thirds looking as good as a leather couch you might find decorating a log cabin—you can see the grain and the texture in the leather, but it is not so fancy that you are afraid to hurt it.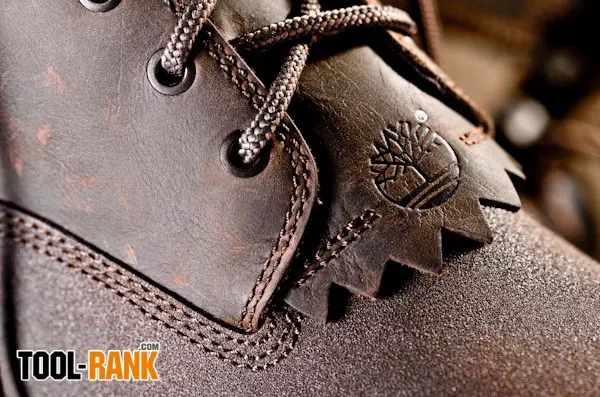 The bottom third of the boot features a leather that has been put through some kind of treatment to make it better withstand abrasions and other abuse. Timberland PRO calls it Ever-Guard leather and its texture looks a bit like sandpaper or a bed liner. The Ever-Guard leather is used in all the areas that would see the most abuse, and it does a good job of protecting and hiding scratches and impacts to these areas.
Beneath the outer leather skin are a few other layers of material that provide 100% waterproof protection, padding, and even a mesh lining with an antimicrobial treatment to help keep the stink away.
To ensure that your feet are totally protected the Rip Saw boots feature a tempered steel toe cap, which I assume is there to protect your toes from falling trees—these are loggers after all. The underside is also protected with a steel plate that adds puncture resistant to the outsole.
Like all logger boots, the Rip Saw features a thick outsole with an aggressive tread pattern that is designed to give you the most traction in outdoor environments. The heel is separated and these Vibram outsoles have an added Ladder Lock feature built right in.
During my time testing these boots, I found them to be comfortable right out of the box and they only got more comfortable over time. If you want a light-weight boot, these are not the ones for you. With the size of the boots and the metal safety features, the weight does add up. But if you are looking for the ultimate protection from an outdoor boot that looks awesome, I would recommend the Timberland PRO Rip Saw Logger Boot. With an average price of about $150, it doesn't break the bank either. BUY - Amazon
workwear
•
boots
•
Timberland Pro
•
Rip Saw
•
logger boots
•
editor review