Dremel Multi-Max Oscillating Tool In Depth Review + Video
https://www.tool-rank.com/media/listing/videos/thumbnail/300x300s/75/81/4a/z288r-XDKdU.jpg
Chris   November 23, 2008  
Introduction
This is one tool that has had a lot of attention ever since it was announced. It seems people have been waiting for an alternative to the Fein MultiMaster for some time. Let me just say that there is a $300 price difference between the Fein MultiMaster and the Dremel Multi-Max, with the Dremel being the cheaper of the two. This is probably the reason people have such a huge interest. Being someone that has never used the MultiMaster, unfortunately I cannot give you a comparative review.
You might want to watch the above video first, and then continue reading the review below.
Comfort
The Multi-Max is comfortable in my large hands. The on/off switch is in a good location, within easy reach of my thumbs. You might find it to be a little big if you have small hands. The variable speed dial is located at the back end of the tool, and is out of the way as to prevent accidental changes, and can easily be a controlled with the opposite hand. It is also well balanced, with a little more weight in the front where I want it, but not so much as to be top heavy, and uncomfortable. It feels strong in my hands, and I don't feel any extra movement of parts.
Cutting & Sanding
The Dremel seems powerful enough, though I have nothing to compare it against. I was able to do some precision cutting with the ¾" blade with no trouble at all. I also did some long straight cuts just to see how fast it could cut. I say it cuts about as fast has a jigsaw using a similar blade. The Dremel Multi-Max really shines because it is able to cut unlike any other type of saw on the market, it is able to do square edge plunge cuts. Every type of cut I threw at it, it was able to handle. Unfortunately my kit did not include the 3" round blade, something that would probably be even more valuable to the kit. After I pick one up and run it through its paces, I will update the review.
The Multi-Max does a pretty good job at sanding. There are better options on the market for sanding large areas, but those are not in the same class as the Multi-Max. The Multi-Max's area of expertise is in sanding corners, and confined spaces, something you would use to sand furniture or crafts.
Attachments
The kit I received came with a ¾" blade, a flexible scraper, a sanding pad, and six grits of sandpaper. The ¾" saw blade and the scraper have a slot in them that allow for quick installation, and removal from the tool. The sanding pad requires that you completely remove the bolt and washer for attachment. They all allow for 360 degrees of rotation, which should help with those awkward cutting situations. It takes the included allen wrench to install, remove, and adjust all attachments. Which leads me to a flaw in the design. There is no place on the tool or in the case that securely holds the allen wrench. Considering this is something that is needed for your everyday use of the tool, it seems like it would be a little too easy to lose. I have a pre-production model so this issue might have been corrected. If not let me know. Dremel has more blades and attachments that are available separately, and I am sure many more to come. See this post
Storage Case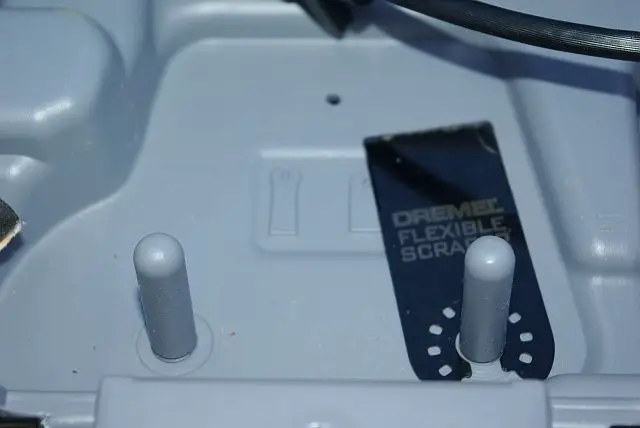 Normally I don't care for molded cases, but Dremel seems to never disappoint me, leaving plenty of room for both the tool and its accessories. One huge plus is the fact that the Multi-Max can be stored in its case with its blade or sander attached. If you are always using the same attachment, this is a nice time saver. The case has a place to store the sander and extra paper, and two little nubs to hold extra blades. You could probably fit an extra 50 blades in the case.
One thing that annoys me is the poor place for storing the instructions. They have you store the instructions just above the tool. This means that they have to be folded down on top of the tool while the lid is closed. A better option would be to have a slot to store them in the lid. There is plenty of room up there, and they would not be in the way. This would also prevent you from misplacing them.
Conclusion
Coming in at a price tag of around $100, it is truly a bargain. I can see this tool coming in very handy at work. I already have some uses line up for it on Monday. This, like all reviews will be open to updates if I see the need. You can pick up the Dremel Multi-Max at your local hardware store, or even better you can support Tool-Rank, and buy it from Amazon with free shipping.
Buy from Amazon Dremel 6300-01 1.5 Amp Multi-Max Oscillating Kit
1446

views
December 02, 2012
-
09:07
Dremel
•
Multi-Max
•
oscillation
•
oscillating tool
•
6300-02L
•
6300