Tool Blog
New Makita Professional 5-Inch Straight Grinder
New Makita Professional 5-Inch Straight Grinder
https://www.tool-rank.com/media/listing/photos/thumbnail/300x300s/14/28/0b/Makita-GS5000-62-1386317635.jpg
Chris   December 06, 2013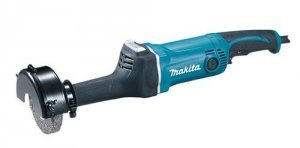 Makita has come out with a new 5-inch straight grinder that has been specially designed with features to handle the harsh dust conditions that a straight grinder can create while cutting or grinding on metal.
Makita's new GS5000 5" Straight Grinder is powered by a Makita-built 7 Amp motor that provides 5,600 RPM of grinding or cutting speed. It features spiral bevel gears that they say provide for smoother more efficient operation.
To keep the GS5000 going through harsh job conditions, Makita used labyrinth construction that captures dust and prevents it from entering the tool. Further, they are using dust-sealed drive bearings and a zig-zag varnish that protects the tool from dust while allowing heat to escape.
Other features include a tool-less guard cap for quick wheel changes and externally accessible brushes for easy serviceability by the user. The GS5000 is a professional grade tool that is suited for welders, fabricators, automotive technicians and more.
Makita
•
straight grinder
•
GS5000