3 New Plunge Routers From Makita
Chris   October 08, 2009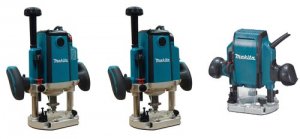 It looks like Makita has upgraded their highly ranked 3612C Plunge Router, which if you remember was awarded 2nd place among all 3+ HP plunge routers tested by Tools Of The Trade Magazine. It was second only to a Festool router which is 3x the price.
The Makita models RP1800 and RP2301FC are both upgraded versions of the 3-1/4 HP 3612; with the RP1800 being a single 22,000 RPM speed and the RP2301FC being a 9,000 - 22,000 RPM variable speed. Not only looking better then the previous model, the new versions also feature a number of upgrades. The first thing I noticed was the joystick style trigger switch. A trigger where your hand will be, obviously makes sense and also makes it easy to transition from gamer mode to woodworking mode and back The RP2301FC features a soft start, and an electric brake, which not only make the tool much safer, but also prevents mistakes. Another nice feature only available only on Model RP2301FC is the addition of LED lights, which Makita likes to add to everything and I agree with them. Both models have a plunge depth of 2-3/4" and offer 3 preset depth stops.
The third model is the RP0900K which is a smaller lighter duty model plunge router. This 1-1/4 HP router has a speed of 27,000 RPM at 8 amps, and accepts only 1/4" router bits. Its maximum plunge depth is 1-3/8" This is obviously a lighter duty router then the above models, but it also comes with a lighter duty MSRP.
| | | | |
| --- | --- | --- | --- |
| Model | RP2301FC | RP1800 | RP0900K |
| | | | |
| | | | |
| | | | |
| | | | |
| | | | |
| | | | |
| | | | |
| | Extended depth adjustment knob, 1/4" collet sleve insert, 1/2" collet, wrench | Extended depth adjustment knob, 1/4" collet sleve insert, 1/2" collet, wrench | 1/4" collet sleve insert, straight guide, (2) wrenches, tool case |
| | | | |
Makita Tools
RP0900K
RP1800 RP2301FC - Amazon