Save 25% On The Bosch 1677M Worm Drive Saw
Chris   July 09, 2012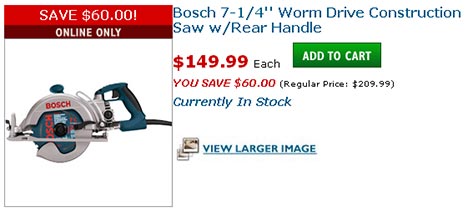 Many professionals consider the Bosch 1677M Worm Drive 7-1/4" Circular Saw to be a good upgrade from the classic Skil 77 Worm Drive and is comparable to the Skil Mag77. I should note that Skil is owned by Bosch Tools and that Bosch likely took some of the best of the Skill 77 to make the 1677M. You might have even noticed a couple of digits in the model number of the Bosch pay tribute to the classic Skil 77; the M also tells us that the saw features a light-weight magnesium foot plate.
The Bosch 1677M Worm Drive is typically priced at around $200 so imagine my surprise to find it on Rockler.com on sale for only $149.99; this is a saving of more than 25% off of their regular price. But wait, there's more. Enter coupon code V2146 to get free shipping on your order of $25 or more. I don't know how long this deal will last and the free shipping deal is also limited, so get this hot deal while you can.
Bosch 1677M - Rockler
If you are able to snag this deal, let us know in the comments; it is nice to know that we are helping people save. If you spot a hot deal on tools, be sure to tell us via the contact form or email so we can share it.
hot deals
•
Bosch
•
7-1/4 inch
•
circular saw
•
15 amp
•
worm drive
•
1677M
•
Skilsaw
•
Model 77