DeWalt DW745 Compact Table Saw On Sale For $269 At HomeDepot (Update: & Amazon)
https://www.tool-rank.com/media/listing/photos/thumbnail/300x300s/84/6e/24/de745-sale-72-1401264555.jpg
Chris   May 28, 2014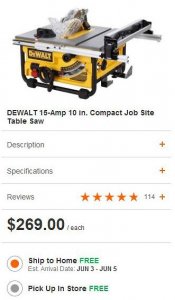 If you are looking for a table saw at a bargain price, look no further than the DeWalt DW745 10-inch Compact Table Saw. I happened to notice that HomeDepot.com has them for the low price of only $269.00. A quick look around the internet and you will see this is priced lower than even refurbished models.
The DW745 was designed to be a portable jobsite saw, so it is compact and features a built-in roll cage for added protection. Despite its small size, it receives great reviews, and with some accessories you can turn this portable saw into a full-sized saw with a much larger cutting capacity.
The DW745 is an older model saw, which could account for its new lower price, but with 4 & 5 star reviews and years under its belt, you know you would be getting a tool that has been fully tested. BUY – HomeDepot.com
Update 6/2/14: Amazon has now lowered their price to $269. BUY - Amazon
If you need a bigger cutting capacity, check the stand from Rousseau, or do a search online for some homemade stands. Personally, I would save the money a build my own stand.
DW745
•
hot deals
•
sale
•
Home Depot
•
table saw
•
power tools
•
DeWALT