2013 Christmas Gift Tool Buyers Guide
https://www.tool-rank.com/media/listing/photos/thumbnail/300x300s/26/e1/1f/13BG-Christmas-300x250-24-1384982881.png
Chris   November 21, 2013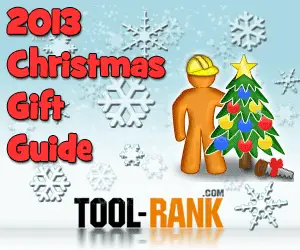 It is about that time of year where we put out the official Tool-Rank Christmas Gift Tool Buyers Guide. Our gift guide features some of the coolest tools from the year, all of which would make excellent gifts for the tool lover in your life. We have all the price ranges covered, so no matter your budged, you can still find an awesome tool related gift.
If you need even more tool ideas be sure to check out our Christmas Gift Guides from the past few years, and the tools that are featured as Tool-Rank Picks.
Weller LED Soldering Iron
While still considered a hobbyist soldering iron, the LED lights that are build right into the iron make it easy to solder in those dimly lit areas. For the price, why not get an iron with lights built right in? $20-$30 BUY
CRKT Minimalist Bowie Knife 
If you are the type of person that likes to have a knife on yourself at all times yet hates having too many things in your pocket, the Minimalist might be the knife for you. It is small in size, is easy to horizontal-carry, and can handle most of your daily cutting needs. $25 BUY
Fein Multi-Mount Multi-Tool Blades 
Fein makes what many consider to be the best oscillating multi-tool on the market and their blades are top notch too. They have now made universal blades so that everyone can see how awesome they are. $25+ BUY
Sanding Sticks
These little guys makes it possible for the craftsman in the family to finely detail sand their latest creation. They are Color-coded so you can easily identify the correct sanding grit. $27 BUY
Wera Advent Calendar
Technically this is a gift that needs to be given out before Christmas, but there is still time. Wera's version of the advent calendar lets you count down the days until Christmas with a new tool or accessory each day. $60 BUY
Milwaukee Screwdrivers
Milwaukee just recently started making screwdrivers, but in my opinion they are off to a good start. They make a good set of general purpose screwdrivers that would be handy for either Contractor or DIY'er. $15-$50 BUY
Milwaukee LED Cordless Lights
A good bright cordless work light was hard to come by, until Milwaukee Tool came out with their 12V and 18V cordless LED work lights. They are amazing and put out a ton of light, plus they are cordless so you can use them anywhere. $80, $100 BUY
Heated Jackets
You can find a heated jacket for almost all of the major tool brands. They are powered using their existing batteries and can keep you warm and toasty all day long. $120-$230 BUY
Skil MAG77LT
The Skil 77 is one of the most popular worm-driver circular saws you will find on the jobsite. To make the saw even better Skil lightened it with magnesium alloy to make it more comfortable to use. That wasn't enough though, because they lightened it again, made further improvements, and gave us the MAG77LT. $210 BUY
Festool Carvex Jigsaw
Festool built what is arguably the most advanced jigsaw, with LED strobe light technology that visually freezes the movement of the jigsaw blade so the user can make the most accurate freehand cuts. $350 BUY
Makita Cordless Chainsaw
If gas ain't your thing, or you already own some Makita 18V batteries and you want to do some trimming, this chainsaw might be for you. IF features a 12-inch guide bar and is powered by 2-18v batteries to deliver plenty of power. $375 BUY
Rockler Black Diamond CNC Shark
With their line of CNC Sharks, Rockler is making it easy for even the novice to do complex CNC millwork and carvings. The Limited Edition Black Diamond CNC Shark includes a bonus touch plate, router bit set, and Rockler Gift Card. $4,000 BUY
Even more Christmas gift ideas
If you still haven't found the gift you are looking for, be sure to check out these gift guides for men (or tool loving women) from some of our online tool-writer friends.
A Concord Carpenter – 2013 Holiday Tool Gift Guide
CopTool – CopTool Holiday Gift Guide for Power Tools & More 2013
HomeFixated – Nice N' Naughty 2013 Gift Guide
ProToolReviews – Contractor and Carpenter 2013 Holiday Buyers Guide
Tool Skool – 2013 Holiday Tool Gift Guide
Christmas
•
buyers guide
•
Christmas gift guide