Water-Repellent Youtube Sensation NeverWet Finally Available To Consumers
https://www.tool-rank.com/media/listing/videos/thumbnail/300x300s/7d/73/8e/7is6r6zXFDc-v1372231560.jpg
Chris   June 26, 2013  
Over the past few years a video of an amazing water repellent called NeverWet has been circulating around the internet gathering millions of view. Not only could a NeverWet treated shirt keep the rain out, but even chocolate syrup was no match against treated white canvas sneakers. Everyone who watched the video instantly wanted the product. Years later, the consumer version is finally available.
Sold under the Rust-Oleum brand, NeverWet is starting to hit HomeDepot store shelves as a two part spray-on kit. They say NeverWet works on fabric, plastic, metal, wood, concrete and more, and it only leaves a slight haze. For only $20 you can pick up the spray kit; and think of all the fun you could have at parties, letting people throw food and drinks at you.
Besides clothing, what would you use it on? Maybe keeping your tools from rusting, or coating your toolbags?
BUY Rust-Oleum NeverWet - HomeDepot Available nation-wide July 27th
1919

views
June 26, 2013
-
01:04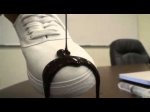 Ross Nanotechnology's NeverWet superhydrophobic spray-on coating
Ross Technology Corp. needed a better way to reduce corrosion on the steel products. They couldn't find a suitable one so they created their own. That product is NeverWet, a silicon-based spray-on coating that repels water and heavy oils.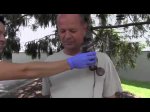 NeverWet Arrives - Hands-On Product Demonstration
Rust-Oleum NeverWet, available at Home Depot, is a superhydrophobic spray-on coating that repels water, mud, ice and other liquids.
Home Depot
•
rust prevention
•
Rust-Oleum
•
NeverWet
•
water repellent