Video Peek At The Festool TI 15 Impact Driver
https://www.tool-rank.com/media/listing/videos/thumbnail/300x300s/fd/8d/da/cw-9qTh5i54.jpg
Chris   September 23, 2011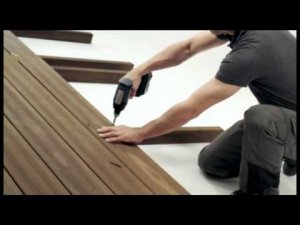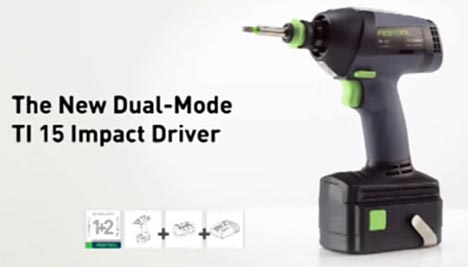 For many Festool owners it is either Festool tools or nothing, and in a time when just about every tool user has an impact driver, these same Festool fans have been making excuses as to why they don't need an impact driver. I have heard excuses like, "I don't need an impact because my Festool drill has more than enough power". Really? More torque than an impact driver? Sure their reasoning is a joke, but we have to admire their loyalty, even though it is annoying. But soon all those Festool owners that don't need impact drivers will be waiting in line to buy the new Festool TI 15 3-In-1 Impact. But we can't blame them, after all, we all know that impacts are the best tools for driving screws.
The TI 15 might be the first impact from Festool, but they didn't skimp on the features. You might have noticed the 3-In-1 in the name of the tool, and this because the TI 15 is not only an impact driver, but it also has a drill mode, and also a right angle drill head. The impact is powered by a 14.4 volt lithium-ion battery that drives the brush-less motor. The specs list the TI 15 with 100 Newton Meters of torque, which is equal to about 885 in-lbs of torque. Other features include a variable speed dial, LED light, and battery level indicator. Right now the TI 15 Impact is only available in Europe, but it should be on its way here in the near future.
Check out the video of the TI 15 Impact in action below and the rather catchy music.
1283

views
December 02, 2012
-
02:21
The NEW Festool Impact Driver TI 15 IMPACT 564355
The TI 15 IMPACT is a genuine power pack for all assembly work where a large number of screws, not big screws but really big screws are required. With a sensor-controlled hammer mechanism which increases the torque and thus transfers enormous power to the screw - no recoiling and therefore gentle on the wrist joint. And with the specially developed EC-TEC drive which is particularly energy efficient and yields the maximum performance from every battery charge -- and which has an extremely long life due to minimal wear. What makes the new TI 15 IMPACT exceptionally unique is the 3-in-1 function: The special chuck with an integrated switch-off function for the hammer mechanism makes the impact screwdriver a classic screwdriver with infinitely variable speed adjustment. And via the FastFix interface it becomes a genuine right angle screwdriver with the right angle adapter and adapter for the switch-off function for the hammer mechanism. Come and see it at Intelligent Workshop Tools in September!
cordless
•
Festool
•
lithium-ion
•
right angle drill
•
14.4 volt
•
drill
•
Festool TI 15
•
impact
•
impact driver
•
TI 15