Porter-Cable Launches A New 4-1/2" Grinder
Chris   February 27, 2011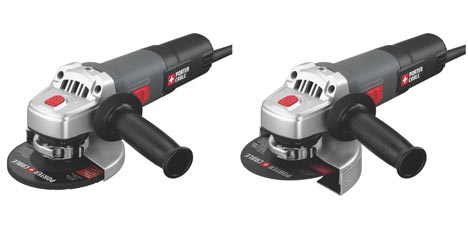 Porter-Cable has announced a 4-1/2" new angle grinder that they have designed to meet the needs of contractors and offer performance, ergonomics, durability, and ease of use.
"We spent a significant amount of time talking to contractors about their needs in a small angle grinder. As a result of this research, we learned that contractors want a number of things, including the ability to grind and cut metal and make adjustments without needing separate tools," said Wil Granger, group product manager, PORTER-CABLE. "Having an understanding of the frustrations our users face has enabled us to design a product that is sure to meet their needs on the jobsite."
To answer the needs of contractors, one of the things Porter-Cable gave to their new grinder is a tool-less quick release guard. Why quick release? Because the new model PC60TAG comes with a standard grinding guard, but it can also be purchased as model PC60TCTAG which includes the standard grinding guard as well as a Type 1 UL rated cutting guard. Because many of us use our grinders for cutting, the second model is the one to get. Since both guards are quick release, there is no excuse for not putting safety first.
To be ergonomically pleasing, the grinders have been slimmed down around the grip and weigh in at only 4.1 lbs. They also feature a 3-position moveable handle so users can work comfortable in varying positions. The grinders may be small, but PC has packed in a 6 AMP motor that delivers 11,000 RPM's, and the motor brushes can be accessed externally for easy servicing.
Both versions should be out this month. The PC60TAG is expected to retail for $39.99 and includes one grinding disk. The PC60TCTAG is expected to retail for $49.99 and includes five grinding disks and five cutoff disks. Both will come with a three-year warranty, one-year service contract and 90-day money-back guarantee.
[:cicn:] PC60TAG - Amazon | PC60TCTAG - Amazon
PC60TAG
•
PC60TCTAG
•
mini grinder
•
4-1/2 inch
•
Porter-Cable