New GTS1031 Compact Table Saw From Bosch
https://www.tool-rank.com/media/listing/videos/thumbnail/300x300s/76/bf/16/xduiguKEziQ.jpg
Chris   March 14, 2011  
I was perusing the Bosch website the other day and came across a new table saw, the GTS1031 compact 10" worksite table saw. The GTS1031 is much different than your typical portable jobsite table saws and was specifically designed to be more compact, light weight, and portable. Many people simply do not need the full ripping capacity that a typical jobsite saw offers, and the 18-inch capacity that the GTS1031 offers is more than enough. The GTS1031 weighs in at 52lbs, which is 8 lbs less than their full sized jobsite saw, but is not as light as the comparable DeWalt saw with 16-inch capacity. Looking at the photos might explain some of the weight; It looks like most of the saw is made up of roll cage, and they even have a roll cage to protect the controls.
The GTS1031 might be small, but it looks like it still has the power of a full-size. It is powered by a 15amp motor that actually delivers higher RPMs than the full-sized Bosch 4100, 5,000 RPMs vs 3,650 RPMs. As mentioned above, the saw has a rip capacity of 18-inches on the right, with a 7-3/4-inch capacity on the left. The saw uses a Squarelock™ Rip Fence for "maximum trueness" and can be locked at a "finger's touch"? Another feature worth noting is the on board tool storage, which stores the rip fence, blade guard/riving knife, miter gauge, included push stick, and wrenches.
Online pricing puts the Bosch GTS1031 10-inch Table Saw between $380 and $400. A stand for the saw is also available.
Update 4/7: Video added.
1160

views
December 02, 2012
-
02:42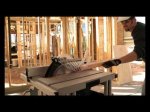 Bosch Power Tools - GTS1031 Portable Table Saw Video
One-handed portability...professional power...and exacting precision...Introducing the newest 10" Portable Jobsite Table Saw from Bosch. Ideal for remodelers, installers, and general carpenters, the new GTS1031 Table Saw combines unprecedented portability with professional performance and durability to create an easy-to-carry tool that's as easy to move as it is to use. This video is property of Robert Bosch Tool Corporation, LLC
table saw
•
Bosch
•
jobsite
•
10 inch
•
compact
•
gts1031
•
video