Milwaukee Upgrades And Expands M12 Drilling Line
https://www.tool-rank.com/media/listing/photos/thumbnail/300x300s/64/c0/e7/2407-22-28-1374523095.jpg
Chris   July 22, 2013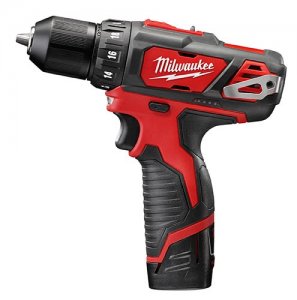 Not too long ago Milwaukee introduced a whole new line of M12 Fuel drills and impacts that feature the latest in brushless tool technology. If you want the most power from a sub-compact tool, these are it. But Milwaukee has not forgotten about their M12 (brushed) line of tools and has recently announced six new products that will either replace existing models or will add to the lineup.
I know what you are thinking. "Why make brushed tools, when brushless is so much better?" Well, the brushless models cost a little more, and not every application needs the extra torque they provide. Also, Milwaukee has committed themselves to making the #1 sub-compact system, and to do that, they want to give users options.
So what can you expect from these upgrades? Most of the changes have to do with ergonomics. Milwaukee has redesigned the housings of these tools to make them more comfortable to use over long periods of time, making the grips narrower and contoured to better fit your hands. Many of them are also a little shorter in overall length. The M12 ¼-inch Impact Driver (2462-22) sees the most significant update from the previous model, with a torque upgrade from 850 in-lbs to 1,000 in-lbs.
M12™ 3/8" Drill/Driver (2407-22):
Replacing 2410
275 in-lbs of Torque
2-Speed Gear Box (0-400/0-1500 RPM)
3/8" Max Capacity
7-3/8" long
2.5 lbs w/ battery
Includes M12™3/8" Drill/Driver, (2) RED LITHIUM™ Batteries, Charger & Carrying Case BUY - HomeDepot
*Also available in Bare Tool (2407-20) BUY - HomeDepot
M12™ 3/8" Hammer Drill/Driver (2408-22):
Replacing 2411
275 in-lbs of Torque
2-Speed Gear Box with Hammer Function (0-400/0-1500 RPM)
3/8" Max Capacity
7-1/2" long
2.7 lbs w/ battery
Includes M12™3/8" Hammer Drill/Driver, (2) RED LITHIUM™ Batteries, Charger & Carrying Case BUY - HomeDepot
*Also available in Bare Tool (2408-20) BUY - HomeDepot
M12™ 1/4" Hex Screwdriver (2406-22):
Additional Model, WILL NOT Replace 2401
275 in-lbs of Torque
2-Speed Gear Box (0-400/0-1500 RPM)
19+1 Clutch Settings
1/4" Hex Quick Change
6-3/4"
2.2 lbs w/ battery
Includes M12™ 1/4" Hex Screwdriver, (2) RED LITHIUM™ Batteries, Charger & Carrying Case BUY - HomeDepot
*Also available in Bare Tool (2406-20) BUY - HomeDepot
M12™ 1/4" Hex Impact Driver (2462-22):
Replacing 2450
1,000 in-lbs of Torque
0-2500 RPM
0-3300 IPM
6-1/2"
2.3 lbs w/ battery
Includes M12™ 1/4" Hex Impact Driver, (2) RED LITHIUM™ Batteries, Charger & Carrying Case BUY - HomeDepot
*Also available in Bare Tool (2462-20) BUY - HomeDepot
M12™ 3/8" Impact Wrench (2463-22):
Replacing 2451
1,200 in-lbs/ 100 ft-lbs of Torque
0-2500 RPM
3/8" Anvil w/friction ring
6-1/2" long
2.3 lbs w/ battery
Includes M12™ 3/8" Impact Wrench, (2) RED LITHIUM™ Batteries, Charger & Carrying Case BUY - HomeDepot
*Also available in Bare Tool (2463-20) BUY - HomeDepot
M12™ 1/4" Impact Wrench (2461-22) :
Incremental Model- October 2013 Launch
450 in-lbs of Torque for maximum control over small fasteners
1/4" Anvil w/friction ring
0-2500 RPM
6"
2.1 pounds
Includes M12™ 1/4" Impact Wrench, (2) RED LITHIUM™ Batteries, Charger & Carrying Case
*Also available in Bare Tool (2461-20)
Milwaukee
•
M12
•
ultra compact
•
2407-22
•
2406-22
•
2408-22
•
2461-22
•
2462-22
•
2463-22
•
12V Max