LaSquare, A New Wide Base Combination Square
https://www.tool-rank.com/media/listing/videos/thumbnail/300x300s/9c/e8/c5/IqTJRt7NdEw.jpg
Chris   July 25, 2012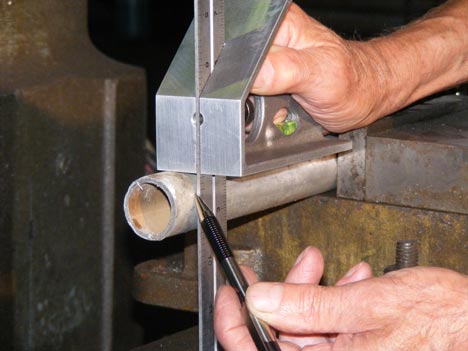 Remember those car commercials a few years back advertising that "wider is better"? I guess what applies to cars may also apply to tools. The LaSquare uses this very idea and brings us a "wider is better" combination square that features a 2-inch wide foot.
In the modern age designers like to make everything round and less boxy. But what this means to builders is that our traditional tools will not work. A regular combination square will work just fine on a square flat table top, but if you throw a 1/2-inch round-over on the edge, your square becomes drastically less accurate. The LaSquare and its larger 2-inch foot allows it actually bridge over these rounded edges and provide a way to accurately make square reference marks, even on round pipe.
The Made in USA LaSquare has a starting price of about $36 and comes with the 2-inch aluminum foot and a 12-inch stainless steel blade. Longer blade options are also available.
2204

views
December 02, 2012
-
05:47
LaSquare - 2" Wide Based Combination Square
FINALLY, AN EXTRA WIDE BASED PRECISION COMBINATION SQUARE GIVING YOU THE BEST TRUE LINE ACCURACY AND IT'S MADE IN THE U.S.A.! Introducing the LaSquare, A Tool Designed for Professionals, By Professionals! In 1998, Jamie LaGesse began to create and develop his own fabricating business LaGesse Products, LLC.  Together, he and his father Robert, with combined 55 years experience in the metal fabrication and design industry, established a business with an emphasis on integrity, quality and customer satisfaction. Through the years and after struggling with "regular" combination squares, Robert began to develop a design one of his own. One that has a 2" wide base that can be used on odd shaped materials such as round or square tubing, handrails, pipe, crown molding, cement blocks, conveyor rails and the list goes on and on. After many prototypes and years of putting it on the shelf and then taking back down again, the LaSquare was finally born! This patented design that's made entirely in the U.S.A. simply put, just makes jobs easier, reduces work time, eliminates the need for extra tools and can be used in all trades. Once used, the LaSquare will be the only combination square that you will ever use again! LaGesse Products is a small business with huge ideas and this is the first of many to come. Keep your eyes on this company, because it has only just begun. Available online at www.lagesseproducts.com Lagesse Products is located 10544 Industrial Park Drive in Mineral Point, MO 63660 Phone: (573) 436-1436
made in USA
•
layout
•
LaSquare
•
combination square
•
LaGesse Products