Kreg Announces Automaxx Line Of Auto-Adjusting Clamps
https://www.tool-rank.com/media/listing/photos/thumbnail/300x300s/bd/e2/c9/Kreg-Automaxx-Clamps-37-1367799294.jpg
Chris   May 06, 2013  
Kreg is making using their products a bit easier and a bit faster with their new line of Automaxx self-adjusting clamps. Best of all, they came out with a self-adjusting AutoMaxx Klamp that works with their existing Klamp line, like the Klamp Table or Klamp track.
This is not the first automatic self-adjusting clamp we have seen, but Kreg has put their own spin on the design to make it work with their Klamp System. In fact is looks like Kreg is licensing the same technology that is found in the LockJaw and the Bessey self-adjusting clamps.
Kreg's version of the c-clamp does not appear to be much different than that of the LockJaw, aside from the blue grips and the larger swivel foot on one side of the clamp. Still, these features might make the difference for some. I think the more exciting news is that Kreg has come out with a Klamp version of the Automaxx. The self-adjusting feature could really come in handy for people that use the Klamp system to make face-frames or use it for other bench clamping needs.
These are not yet available, but it looks like these will range from $30-$50 and ship in June. Kreg has a 3-inch and a 6-inch reach c-clamp, and a 3-inch reach Klamp and Klamp System.
1301

views
May 05, 2013
-
04:26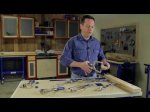 Kreg Automaxx Clamps Overview
Automaxx Clamps make clamping faster and easier than ever by adjusting the clamp automatically to match the thickness of the material being clamped—whether it's thick, thin, or in between. You just set the clamping pressure once using an easy-to-regulate thumbscrew. After that, Automaxx does the rest—locking the clamps closed easily and consistently every time and with every thickness.
Kreg
•
Automaxx
•
auto-adjusting clamps
•
clamping
•
clamps
•
Lockjaw
•
Klamp