Duo-Fast Announces First Ever Cordless Fuel Roofing Nailer
Chris   September 09, 2010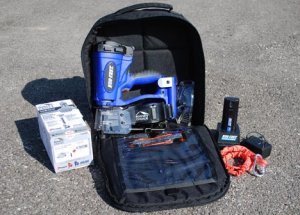 Today Duo-Fast held a virtual press conference where they gave us the scoop on their latest creation, the DFCR175C fuel powered cordless roofing nailer. This particular tool has been the number one request by end users. So Duo-Fast, doing as all smart companies do, is giving the people what they want.
The DFCR175C uses a fuel and 6-volt battery combination to fire the nails, but what is impressive is the amount of nails that can be driven from a single fuel cell. Duo-Fast says you can get around 950 shots out of each cell. The batteries do an even better job and offer around 2200 shots per charge. This fuel and battery combination offers a firing speed of up to 2 nails per second.
Duo-Fast knows this new tool, as great as it is, is no match for the speed of pneumatic roofing nailers, but they are not worried. They have small to medium jobs in mind with this tool, where you can save an hour each day by not having to roll out a compressor, a few hoses, etc. Those hours add up, and this is where the nailer will eventually pay for itself. So not quite a pneumatic gun, but much faster then nailing by hand.
The DFCR175C has a price of $530 and is available in limited markets now and is expected to be in the top 10 major metro markets by the end of this year. They are looking at a national roll out in early 2011, so you can start saving now. The kit will include the nail gun, one battery, a charger, a fuel+nail pack, safety glasses, and a storage backpack so you can easily take it up and down ladders. Duo-Fast even included a tether to save the tool in case it somehow manages to get away from you. The only problem with this is, if you fall, so will your nail gun, and it will see you once you hit the ground. So don't fall.
Duo Fast
•
nailer
•
nail gun
•
cordless nailer
•
roofing nailer
•
dfcr175c
•
fuel cells